Peña physicians start committee to build trust, relationships with southwest community
August 02, 2023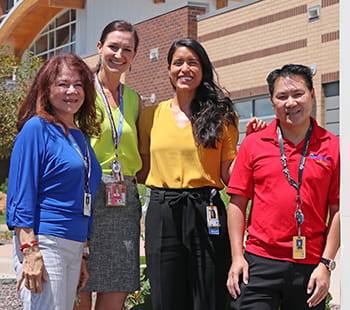 Internal medicine–pediatrics (Med-Peds) physicians Julie Venci, MD, and Carolina Gutierrez, MD, led the establishment of the Peña Community Engagement Committee in December, aiming to foster relationships and partnerships and boost engagement within the southwest Denver community. The committee ensures community engagement updates reach all staff at the Federico F. Peña Southwest Family Health Center.
Operating on a monthly basis, the committee collaborates with esteemed community navigators Father Joseph Dang and Sofia Chavez, alongside Stephanie Syner, project manager and community relations coordinator at Denver Health.
"Many social and structural factors impact our patients' health," Dr. Venci said. "Our clinic aims to build relationships and trust with patients and communities outside the clinic walls. Community engagement is a critical way to accomplish this goal."
The committee is focused on transformative projects in collaboration with two exceptional community organizations, Excalibur Outreach and Re:Vision, that are providing a school supply giveaway event and the provision of fresh produce to the community.
Peña has held a back-to-school supplies and clothing drive for children every year since 2017. This year's backpack giveaway event is set for Aug. 14 at the clinic at 1339 S. Federal Blvd. Donations to Excalibur Outreach to help purchase school supplies for this year's drive can be made here via PayPal.
The partnership with Re:Vision supports the Ruby Hill Park Community Garden, 1500 S. Osage St., which allows community members to meet and learn the art of planting and harvesting fruits, vegetables and herbs. The classes and activities provided are designed to be engaging and inclusive for all age groups, ensuring that the entire family can reap the benefits of participation. Moreover, Re:Vision has partnered with both the Peña and the Sam Sandos Westside Family Health Center on a grant to offer community-supported agriculture boxes to newborns and patients enrolled in the Healthy Lifestyles Clinic, further strengthening their commitment to the community's well-being.
Upcoming committee projects include organizing the clinic's holiday community engagement events, such as the annual Thanksgiving event that provides meals to individuals experiencing homelessness. Additionally, the committee will also coordinate the clinic's Christmas party and Lunar New Year celebration to bring the community together.
"I've worked with the
Peña
clinic as a resident and had the good fortune of being hired there after my training to continue to serve as a provider," Dr. Gutierrez said. "During my time, I've seen the
Peña
clinic become a cornerstone in the southwest community. Our clinic's goal is to extend our support beyond just medical needs and instead, to create avenues to uplift the community. Through our Community Engagement Committee, we have forged strong partnerships with other inspiring organizations in the area. Together, we strive to create meaningful opportunities that foster unity and empowerment within the community."