Denver Health offers a variety of healthy dining options to our patients, staff and visitors.
In-Room Dining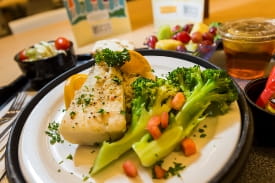 Room Service dining is provided to patients during the hours of 6:30 am – 7:00 pm. All menu items are available during these hours based on dietary restrictions. Once meals are ordered, they will be delivered to patient rooms within 45 minutes or at a specific time, if requested. Check the menu in your room for meal selection and directions on how to order. For questions about your diet or food order, please ask the room service operator or dietitian to assist you.
Open our menu in English or Spanish.
Good Day Cafeteria
The Good Day Café is located in the basement of Pavilion A and provides complete meal services.
Monday – Friday, 6:30 am – 6:30 pm
Weekends and holidays, 6:30 am – 2 pm
OMC Café: Powered by Emily Griffith
The OMC Café is located in the Outpatient Medical Center (660 Bannock St., Pavilion L)
The new 4,800-square-foot OMC Café: Powered by Emily Griffith serves breakfast and lunch, offers Starbucks coffee and espresso beverages, a variety of fresh and convenient grab-and-go items, as well as paninis, soups and bottled beverages. The café is driven by a local, community-based partnership, with current students and graduates of the Emily Griffith Technical College's culinary programs leading its ownership and operations. The café is located on the second floor – just follow the signs after getting off the elevator – and is open from 6:30 a.m. - 2 p.m. Monday - Friday (closed weekends and holidays).
Main Street Café Coffee Shop
Specialty coffees, snacks, salads and sandwiches are sold at the Main Street Café Coffee Shop, which is located within the Good Day Cafe, in the basement of Pavilion A.
Monday – Friday, 6:30 am –5 pm
Closed weekends and holidays
Subway®
Subway offers a wide variety of sandwiches, salads and sides to choose from and is located on the First floor of Pavilion B.
Open daily, 24 hours a day.
Nutrition
Denver Health links menu items to MyFitnessPal and Fitbit applications for smart technology users; nutrition facts are available. Look for the green apple icon next to food items which indicates a healthy choice.

Denver Health is a partner hospital of the Colorado Healthy Hospital Compact, a partnership developed to protect and promote the health of hospital patients and their families, visitors and staff. Partner hospitals lead by example by offering a quality nutrition environment, developing a culture of wellness, and working to make Colorado "the healthiest state" in the nation.
Denver Health believes in a healthy community, and we proudly serve only healthier beverages to support the well-being of our patients, visitors, and staff.