Community Health Access Express Enrollment Van
The Health Access Express Enrollment Van is designed to reach residents in Denver communities to increase enrollment of individuals into publicly funded health care financial assistance programs, such as Medicaid and the Child Health Plan Plus (CHP+). Approximately 7,200 individuals are expected to benefit from this program over the next three years.
**Unfortunately, the van has some unplanned repairs and is currently unavailable. We are hopeful that all repairs will be completed in the next couple of weeks so that the van can resume outreach and enrollment services in the community. In the meantime, our staff have continued to meet with clients at various locations throughout Denver. For any questions about the van or to schedule enrollment appointments, please call (303) 912-0263. We will post the August calendar when the van returns to service.**
To schedule an enrollment appointment, please call one of our outreach workers at the following numbers.
(303) 912-0263 | (720) 648-2307
About the Van
The distinctive van (decorated with artwork donated by Tony Ortega) is equipped with three workstations for bilingual staff members to assist families in completing enrollment. A small waiting area is family friendly with a children's play area.
Where and When
Outreach enrollment sites include Denver Head Start and child care centers, Denver Public Schools, Denver Housing Authority, churches, community-based organizations, agencies serving the homeless, businesses, big box stores and many other locations. The schedule includes early morning, evening and weekend hours.
Funding
The Health Access Express is funded by The Colorado Health Foundation.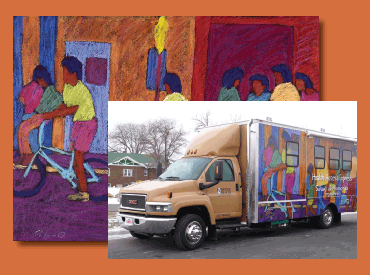 We can help you find health insurance coverage
Our van is currently being serviced. To schedule an enrollment appointment, please call 303-912-0263.