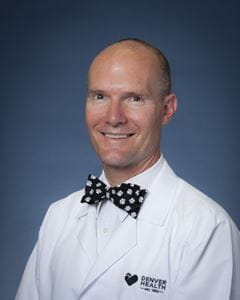 Christian C Thurstone, M.D.
Behavioral Health - Adolescent Outpatient
Behavioral Health - Adolescent Outpatient
723 Delaware St., Pavilion M
Denver, CO 80204

Map & Directions
Dr. Christian Thurstone is one of few physicians in the United States who are board certified in general, child and adolescent and addictions psychiatry. He is the medical director of STEP and an associate professor of psychiatry at the University of Colorado Denver. Dr. Thurstone is also the director of the University of Colorado's addiction psychiatry fellowship program, at the University of Colorado. Dr. Thurstone has completed medical training at the University of Chicago, Northwestern University and the University of Colorado. In 2010, he completed five years of mentored research training through the National Institute on Drug Abuse/American Academy of Child and Adolescent Psychiatry K12 Research Program in Substance Abuse. Dr. Thurstone also currently serves as a team physician serving the National Football League and is a past president of the Colorado Child and Adolescent Psychiatric Society. In June 2012, the United States Congress awarded him another title: U.S. Army Major. He is honored to treat American service members who need mental healthcare as an Army Reserves officer in the Combat Stress Unit of the 807th Medical Command. Dr. Thurstone is a fluent Spanish speaker and avid tennis player.
Languages
Spanish
Interpretation service provided for all languages
English
Certifications
American Board of Psychiatry and Neurology - Addiction Psychiatry
American Board of Psychiatry and Neurology - Child & Adolescent Psychiatry
American Board of Psychiatry and Neurology - Psychiatry
Licenses
Basic Life Support
DEA
DEA (Buprenorphine)
State License
Education
1998, University of Chicago Pritzker School of Medicine, Medical Education
Internships
1999, Northwestern University School of Medicine
Residencies
2001, Northwestern University School of Medicine
2003, University of Chicago Pritzker School of Medicine
Fellowships
2005, University of Colorado School of Medicine