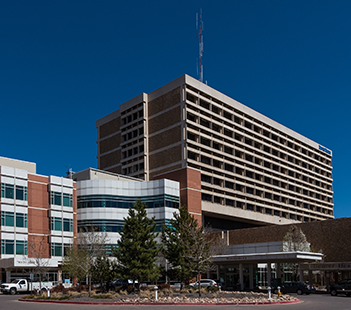 Denver Health Main Campus
777 Bannock Street
Denver, CO 80204
303-436-4949
303-436-6000

You'll find that the Denver Health Emergency Department and Pediatric ER and Urgent Care Center walk-in entrances are accessible through the main Denver Health Pavilion A entrance, which is located on the circle drive off of Delaware Street between 6th Avenue and 8th Avenue.
You'll also find that Denver Health offers much more than just emergency services on our main campus, including primary care and pharmacy services in the Webb Center for Primary Care, and prenatal care by physicians or a nurse midwife in our Women's Care Clinic in Pavilion C. We also provide outpatient Cardiology care in Pavilion A and outpatient Orthopedic services in Pavilion B.
We also offer a variety of amenities and parking options for your convenience. If you are coming to our campus to visit a patient, please be sure to note our visiting hours.
View Our Campus Map
ACUTE Center for Eating Disorders - ACUTE Center for Eating Disorders
723 Delaware St., Pavilion M
Denver, CO 80204
Adult Urgent Care Center - 660 N. Bannock St., Pavilion L, Floor 1
Denver, CO 80204
Adult Urgent Care Center - Adult Urgent Care Center
660 N. Bannock St., Pavilion L, Floor 1
Denver, CO 80204
Anesthesiology - Anesthesiology
777 Bannock St., Pavilion A
Denver, CO 80204
Behavioral Health - Adolescent Inpatient - Behavioral Health - Adolescent Inpatient
723 Delaware St., Pavilion M
Denver, CO 80204
Behavioral Health - Adolescent Outpatient - Behavioral Health - Adolescent Outpatient
723 Delaware St., Pavilion M
Denver, CO 80204
Behavioral Health - Adolescent Outpatient - Behavioral Health - Outpatient Behavioral Health Services
777 Bannock Street, MC 3450
Denver, CO 80204
Behavioral Health - Adult Inpatient - Behavioral Health - Adult Inpatient
777 Bannock St., Pavilion A
Denver, CO 80204
Behavioral Health - Adult Outpatient - Behavioral Health - Adult Outpatient
660 N. Bannock St., Pavilion L, Floor 4
Denver, CO 80204
Behavioral Health - Adult Substance Abuse - Behavioral Health - Adult Substance Abuse
667 N. Bannock St., Pavilion K
Denver, CO 80204
Behavioral Health - Child and Adolescent Outpatient Mental Health and Substance Abuse - Behavioral Health - Child and Adolescent Outpatient Mental Health and Substance Abuse
301 W. 6th Avenue, Pavilion G. Basement
Denver, CO 80204
Bernard F. Gipson Sr. Eastside Family Health Center - Gipson Eastside Community Health Center
501 28th St.
Denver, CO 80205
Cardiology - Cardiology
660 N. Bannock St., Pavilion L, Floor 5
Denver, CO 80204
Clinical Social Work - Clinical Social Work
601 Broadway
Denver, CO 80204
Correctional Care - Various Locations
10500 E. Smith Road
Denver, CO 80204
Dental Clinic - Dental Clinic at Denver Health
660 N. Bannock St., Pavilion L, Floor 7
Denver, CO 80204
Denver Health Hospitalists - Denver Health Hospitalists
777 Bannock St.
Denver, CO 80204
Denver Health Primary Care Center - Denver Health Primary Care Center
660 N. Bannock St., Pavilion L, Floor 7
Denver, CO 80204
DH Dept of Family Medicine - DH Dept of Family Medicine
601 Broadway
Denver, CO 80204
DH Dept of Internal Medicine - Intensive Outpatient Clinic
301 W. 6th Ave., Pav G
Denver, CO 80204
DH Dept of OBHS - DH Dept of OBHS
667 Bannock St
Denver, CO 80204
DH Dept of PEDUC - Pediatric Emergency Department and Urgent Care
777 Bannock St., Pavilion A
Denver, CO 80204
DH Dept of Psychiatry OBHS - Outpatient Behavioral Health Services
667 Bannock St.
Denver, CO 80204
Eastside Family Health Center, Pediatrics - Eastside Family Health Center, Pediatrics
501 28th St.
Denver, CO 80205
Emergency Department - Emergency Department
777 Bannock St., Pavilion A
Denver, CO 80204
Emergency Department - 777 Bannock St., Pavilion A
Denver, CO 80204
Family & Internal Medicine Clinic - Wellington E. Webb Center for Primary Care
301 6th Ave., Pavilion G
Denver, CO 80204
Federico F. Pena Southwest Family Health Center and Urgent Care - Federico F. Pena Southwest Community Health Center
1339 S. Federal Blvd.
Denver, CO 80219
Florence Crittenton Campus - Florence Crittenton Campus
55 S. Zuni St.
Denver, CO 80233
Hospital Medicine (Inpatient Care) - Hospital Medicine (Inpatient Care)
777 Bannock St., Pavilion A
Denver, CO 80204
Intensive Outpatient Clinic - Intensive Outpatient Clinic
301 W. 6th Ave.
Denver, CO 80204
La Casa-Quigg Newton Family Health Center - La Casa-Quig Newton Family Health Center
4545 Navajo St.
Denver, CO 80211
Lab - Lab
777 Bannock St., Pavilion A, 2nd Floor
Denver, CO 80204
Lake Campus - Lake Campus
1820 Lowell Blvd.
Denver, CO 80204
Montbello Family Health Center - Montbello Family Health Center
12600 E. Albrook Dr.
Denver, CO 80239
Neonatal Intensive Care Unit - Neonatal Intensive Care Unit
790 Delaware St., Pavilion C
Denver, CO 80204
Neurosurgery - Neurosurgery
660 N. Bannock St., Pavilion L, Floor 5
Denver, CO 80204
Park Hill Family Health Center - Park Hill Family Health Center
4995 E. 33rd Ave.
Denver, CO 80207
Pathology Clinical Laboratory - Pathology Clinical Laboratory
777 Bannock St., Pavilion A
Denver, CO 80204
Pediatric Emergency Department and Urgent Care - Pediatric Emergency Department and Urgent Care
777 Bannock St., Pavilion A
Denver, CO 80204
Pediatric Primary Care - Wellington E. Webb Center for Primary Care
301 6th Ave., Pavilion G
Denver, CO 80204
Pediatrics (Inpatient Care) - Pediatrics (Inpatient Care)
790 Delaware St., Pavilion C
Denver, CO 80204
Pediatrics (Inpatient Care) - 790 Delaware St., Pavilion C
Denver, CO 80204
Psychiatric Emergency Department - Psychiatric Emergency Department
777 Bannock St., Pavilion A
Denver, CO 80204
Public Health - Public Health
660 N. Bannock St., Pavilion L, Floor 2
Denver, CO 80204
Radiology - Radiology
660 N. Bannock St., Pavilion L, Floor 1
Denver, CO 80204
Sam Sandos Westside Family Health Center - Sam Sandos Westside Family Health Center
1100 Federal Blvd.
Denver, CO 80204
Surgical Intensive Care Unit - Surgical Intensive Care Unit
777 Bannock St., Pavilion A
Denver, CO 80204
Trauma - Trauma
777 Bannock St., Pavilion A
Denver, CO 80204
Webb Center for Primary Care - Wellington Webb Center for Primary Care
301 W. 6th Ave.
Denver, CO 80204
Women's Care Clinic - Women's Care Clinic
790 Delaware St., Pavilion C
Denver, CO 80204
Services
Dental Care: Endodontics

Neurology (Pediatric)

Hospital Medicine

Rehabilitation

Surgery: Breast Surgery

Surgery: General Surgery

Surgery: Orthopedic Surgery

Surgery: Orthopedic Trauma Surgery

Surgery: Spinal Surgery

Trauma: Orthopedic Trauma