After Near-Death Sudden Cardiac Arrest, MMA Athlete Begins Newest Battle
February 05, 2016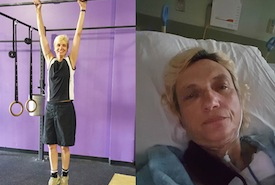 By Gabriela Kuhni
Through the middle of 2015, my life was that of an athlete in training. I was spending six to 10 hours daily in CrossFit, kickboxing, and Brazilian jiu-jitsu. I felt like I was in top shape, as I had planned to fight in mixed martial arts (MMA) and become the oldest fighter ever (male or female) at age 54. But life had other plans, and everything changed on June 18, 2015, at 4 p.m.
At that time, I was riding home from work on I-25, cruising leisurely on my motorcycle, when suddenly I felt a pain shooting from my left hand toward my heart. Having a medical background, I knew immediately this meant trouble. My instinct told me that staying on I-25 could be deadly, so I took the next exit. But as I was approaching the intersection, I felt the strange pain a second time. The last thought I remember having was "Oh, this is not good." Before I even realized what was going on, I was slumped over my bike.
I don't remember how fast I was riding or how I even stopped. I know now that a bystander came up to me, thinking it was weird how I was laying on my bike. The Good Samaritan checked on me and didn't find a pulse. That person immediately started CPR and for three minutes tried to restore my breathing. Luckily, the Denver Paramedics arrived quickly, and were able to revive me.
After three minutes without oxygen, your organs will begin to shut down. At first the brain dies and then the rest of the body. I was fortunate enough that the Good Samaritan did an awesome job in recognizing my life-threatening situation and performing CPR. I am also very thankful to the Denver Paramedics, and their quick response in bringing me to Denver Health's emergency department (another reason why I survived). Denver Health's emergency department has been named one of the best in the nation and they proved it again by saving my life.
One week later, following a hospital stay in the intensive care unit (ICU), I formally met Dr. Emily Hass – and this time I was awake. She is the ER physician who performed a miracle on me. I was introduced to Dr. Hass as "the woman who died on the bike." We talked a little bit, and at the end of our chat we both had tears in our eyes, and Dr. Hass said to me: "You are the reason why we do our job."
During my time in the ICU, I felt very relaxed, which is uncommon for me. Normally, I am in a constant stress mode due to my job and training. Luckily, the staff at the ICU made me feel at home; I was in the "best hands" possible as they cared for me. I never felt like I was asking for too much or that they considered me a burden in any way. No request was too much. It was always "Sure, how can I help?", "What do you need?", and "Do you feel OK?" They really cared for me. I never felt so good.
The Next Battle in This Fighter's Life
Despite an EKG, CAT scan, MRI, bloodwork, and a battery of other tests, my physicians couldn't explain the reason why my "engine blew up." I have never smoked, never drank more than one glass of alcohol at a sitting, no drugs, was in excellent shape (perfect body mass index for my age), and was eating healthy. So while there was no clear reason why I should have had a cardiac arrest, I am forever grateful to my care team of doctors, nurses, and staff that helped save my life.
Today, thanks to my great condition before my "incident," I am back at work and training again in CrossFit, kickboxing, and jiu-jitsu. I tire easily and I don't have the strength to do certain exercises, but I know it will come back. At the moment, I am concerned that my cognitive and comprehensive abilities are diminished. I understand the meaning of single words, but can become confused means they are combined in a sentence. However, my physician is hopeful that this will change in the future. I am working on it with medicine, prescribed supplements, and mental exercises.
To Dr. Hass, Michele, Jared, and everyone else at Denver Health's ER and ICU – you all are very selfless, dedicated, caring, attuned and react superior to critical situations, showing sympathy to patients, and working horrendous hours. Everybody who was involved with my rescue, survival, recovery, and well-being is a hero to me. Thank you.
Now, my next step is full recovery. And to share my story, to let others know they too can come back. I am a fighter and my purpose is to help others.
This is a fight I will win.