Denver Health Paramedics Reunite With Burn Survivor
June 21, 2019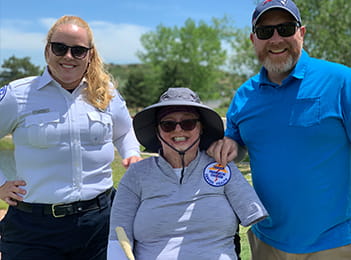 Jamie Ketchum has come a long way since May 25, 2017. That's the day a dump truck blew a tire on Interstate 25 near 58th Avenue and crashed into her SUV, causing a massive fire. Her mother and husband were injured, and her father died in the accident.
"It was the worst day of my life, ever, that you could imagine," Ketchum told
CBS Denver
.
Denver Health Paramedic Angela Rice and Denver Health Paramedic Division Lt. Dennis Baker helped pull Ketchum from the fiery wreck that day. The 38-year-old credits them with saving her life.
Ketchum lost both legs and an arm, but has made a remarkable recovery since then. Recently, she reunited with Rice and Lt. Baker at Arrowhead Golf Course in Littleton. It was a unique event for both Ketchum and the
paramedics
.
"It is a special moment when you get to see a patient who was so severely burned and injured doing as well as Jaime is now," said Julie Arellano, a paramedic field captain who was also there for the reunion. "It was extraordinary to hear her optimism and outlook on life, and really helped to remind us that our work does matter."
"Hopefully, if someone else is going through something terrible and having their worst day, you know, I can help make them see it will get better," Ketchum told CBS Denver.
Ketchum will throw out the first pitch at the Colorado Rockies game on July 15.
To share your patient story at Denver Health, email us at
Patient_Stories@dhha.org
.