Denver Health Patient Reunites With Her Angels and Heroes
October 07, 2020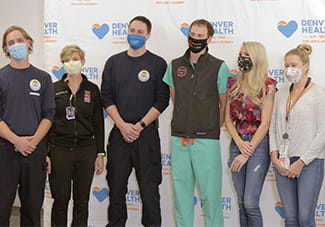 By: Megan
It's rare for Denver Health's first responders and frontline workers to see the outcome of a long recovery for one of their patients, but last month, a former Denver Health patient named Megan got to reunite with the Denver Health paramedics, nurses and doctors who saved her life. In September of 2019, Megan was attacked and nearly killed, suffering numerous injuries including a traumatic brain injury, skull and face fractures. She credits Denver Health Paramedics and the medical team at Denver Health with saving her life. Her tearful reunion nearly a year after being saved is captured in this FOX31 News story. During that reunion, Megan wrote a letter and read it to the health care heroes at Denver Health who saved her that night, thanking them for all they did for her. We are honored to share that letter here in its entirety.
Watch Megan's tearful reunion with the Denver Health Paramedics, doctors and nurses who saved her in this FOX31 News story.
To the first responders, doctors, nurses and other health care and medical professionals at Denver Health:

In the darkest moments of my life, all of you became the light. Each of you responded and helped me in a miraculous way during those critical moments that ultimately saved my life.

To the Denver Health Paramedics who helped me in those first moments after the brutal attack: your voices were the sounds of angels. I will never forget hearing you arrive on scene and bursting into action, while you made sound decisions to best begin treatment for the close to fatal injuries I sustained. While feeling utterly terrified because of what had just transpired, you made it possible to also feel a sense of peace and calm because I knew beyond a shadow of a doubt that I was in the most capable and outstanding hands.

To the doctors, nurses and other medical professionals in the Emergency Department: you held my hands and repeatedly assured me I was safe. You filled my heart with hope and gave me the best trauma care and treatment I could've possibly received. With this care, my heart continued to beat strongly, filling me with life again.

To the doctors, nurses and other medical professionals in the Intensive and Progressive Care Units: you continued such exceptional care, and did everything in your power to ensure I would physically and emotionally overcome this terrible tragedy. You lovingly inspired me to begin the first steps of my long journey to recovery. You went above and beyond your duties by brushing and braiding my hair, sneaking in some ice cream, making me laugh and helping me learn how to walk and function again. All of these things began to heal me.

I fall short in my attempt to find the words that can accurately express my deep gratitude for you all. Your selflessness, expertise, quick and sound decisions, and the phenomenal care you provided reminded me that there are angels and heroes among us.

Regardless of my insane willpower and strength, I simply would not have survived without each and every one of you at Denver Health. Thank you for profoundly impacting my new life that began on September 24, 2019.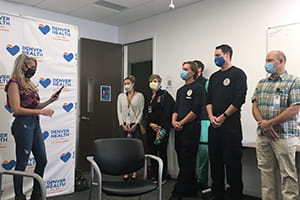 Even though I've made tremendous progress with the help of numerous doctors and specialists, my journey to a full recovery is far from over. I am still working through a significant amount of emotional and physical issues, but I am deeply honored and grateful for the amazing opportunity to be standing here with you today. Because of you, I am able to walk, talk, drive during the day, curse at bad drivers and work part-time again at my office with my incredible team.

Thank you for the selfless and exceptional care you provided me. You are the reason I am here, celebrating with you today, and standing stronger than ever before.

Thank you for saving my life and thank you for being my true heroes!
If you want to share your patient story at Denver Health, email Patient_Stories@dhha.org