A Christmas Miracle at Denver Health
December 20, 2020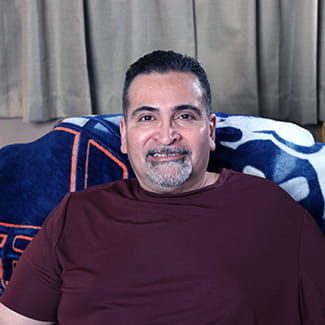 In a year that has been especially hard on everyone, this Christmas, Denver Health patient Rudy Valencia has something very special to celebrate – his life. It was just over a year ago, that doctors at Denver Health gave him a 10- to 20-percent chance of living after severe complications from ulcerative colitis. To see him today, few would believe that he was that close to dying.
Rudy's Nearly Life-Ending Battle With Ulcerative Colitis
Valencia has been battling ulcerative colitis since 1998. It is an inflammatory bowel disease which can cause mild to severe symptoms. Once someone is diagnosed with it, it doesn't ever really go away, which is why it's so important to treat it. When Valencia was first diagnosed with the disease at Denver Health, he said his symptoms were manageable and many times would go into remission.
But that all changed last year.

Valencia said his ulcerative colitis had "come back strong," which is why his doctors put him on an IV drug infusion treatment called Remicade. The drug is used in some of the most severe cases of colitis as well as the related Crohn's Disease. The treatments were keeping Valencia alive until his Medicaid ran out and he stopped getting his infusions. Things very quickly took a turn for the worse.

Valencia went to see his primary care doctor on October 25, 2019 and was immediately taken to the Emergency Department – he was severely dehydrated and had a low heart rate.

"Everything you could imagine was not good," said Valencia's sister, Veronica Gonzales.

Denver Health Gastroenterologist Courtney Bhat, MD has been treating Valencia for his colitis for years and was at his bedside once again during this episode. She didn't know that he had stopped his treatments. "I was shocked to see how sick he looked at that time," Dr. Bhat remembered. "He really was a shell of his usually bright, positive self."

Valencia went immediately from the Emergency Department into surgery and the Surgical Intensive Care Unit.

"There was a small time where we thought maybe we could adequately get his disease under control with medication, but it became very obvious very quickly that he was too sick for just medication and that he'd require surgery," Dr. Bhat said. "When Rudy was in the Surgical Intensive Care Unit, he was not just there because of his ulcerative colitis. He had multiple organ systems that were failing him."

Valencia's sister said the doctors all told her he was in "very critical condition" and nothing was getting better. He developed double pneumonia, went into septic shock and had to have a breathing tube put in to keep him alive, given how sick he was. Doctors from different departments throughout the hospital were now involved in his care – all trying to make him well again.

"We were worried that at one point that we might lose Rudy," Dr. Bhat reflected.

"They just did everything, they never gave up," Gonzales said about the medical team caring for her brother. "And that just, gave me hope because they were still working on him and caring for him. It was just heart-wrenching to watch everything he had to go through because I really thought I was going to lose him."
The "Christmas Miracle" and Rudy's Recovery
"I woke up and I was a little disoriented," Valencia said, recalling the day he started his recovery – December 21, 2019. "I was looking around, I was like, 'What happened? Where am I? What's going on? Where's my sister?'"

The first person to come into Valencia's room after he awoke that day was Michelle Foslien, a registered nurse on Denver Health's Surgical Intensive Care Unit who had been caring for him every step of the way.

"I was so grateful that I woke up and saw Michelle," Valencia continued. "When she saw that I was awake and coherent, and that was I doing okay, I remember she had tears down her eyes and she put her hand on my arm. She said to me, 'Rudy, we thought we lost you. But you're like a Christmas miracle.' I remember her saying that."

Foslien clearly remembers her time caring for someone who most on the Denver Health team would agree was not your ordinary patient.

"If you walk around the Surgical ICU unit, and you mention the name Rudy, everyone's face lights up," she said, smiling. "Everyone remembers the love that he had for us, the cheer that he brought, the positive attitude that he had, how hard everyone fought to keep him alive and how much of an impact he had on our lives." Valencia had made it through!

His recovery, although not an easy road ahead, was certain, considering his positive attitude. This, above all, is what makes his doctors and caregivers emotional.

"I remember I would go into the ICU and hold his hand, and just make sure he was okay," Dr. Bhat said through tears. "And even with a breathing tube in his mouth, somehow he would muster a smile for me."

"Dr. Bhat checked in on me all the time over there in the ICU," Valencia said gratefully. "And I can't say enough about the doctors, the nurses, the CNAs (Certified Nursing Assistants), the people who came to clean my room, you know, the care that they gave me was just phenomenal. I mean, it takes a special kind of person to care for somebody in their darkest moments and in their most vulnerable situation. I'm extremely grateful for every single one of them."
Rudy Gets Back to His Life
Dr. Bhat calls her patient's transformation since getting out of the hospital last January "amazing." After losing about 100 pounds during that four month period, he has now built his muscle strength back, gained weight and gone back to the things that he used to love to do before his hospitalization. Valencia is a baker by trade and makes a phenomenal cinnamon roll.

Beyond the physical transformation, Dr. Bhat said that Valencia has shown her how to better care for her patients.

"Rudy has really taught me the importance of listening to patients, and hearing their stories," she said, choking back tears. "When you come to Denver Health for your care, you know that you're going to be cared for by providers, nurses, other ancillary staff who want to be here, who love to be here, who are here for the mission and here for the patients."

Valencia's family members felt that care and concern just as much as the patient did.

"There is a sign at Denver Health that says 'From Critical to Miracle' and I told Rudy, 'that's God telling me everything's going to be okay.' And it was... IT was," Gonzales said, sobbing through her joy and deep appreciation. "My heart is so grateful to all of them, to every one of them that was involved in his care."

Valencia knows he got a second chance at life and he is making the most of it.

"I have a very different outlook on my life now," he said. "I believe that I owe it to Denver Health, my sister and everybody who went through that with me. My mom, my family, the doctors and the nurses and everybody at Denver Health. I feel like I owe it to them to live my life to its fullest every single day, because you don't know how long you have, you know, and they made me appreciate life."

If you are experiencing any health issues that you have not spoken to a doctor about, start by making a telehealth appointment with a primary care doctor at Denver Health by calling 303-436-4949, or online through the free MyChart app. We have financial assistance available to help pay for your treatment and can work with almost any situation. We care for all and do not turn anyone away. For any serious, life-threatening conditions, call 911 immediately.

To share your patient story at Denver Health, send an email to Patient_Stories@dhha.org.