Somali Refugee: Denver Health Midwife Is Part of My Family
July 01, 2019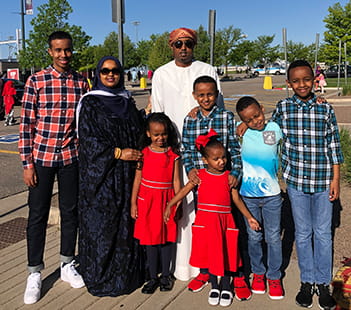 By: Indonesia Maye
I have lived in Denver since 2006. The city became my home after
seeking asylum in the United States from the violence in my home country, Somalia
. I am a mother of six beautiful children, ages 17, 11, 10, 8, 6 and 3. Five were born at Denver Health. Denver is a beautiful city and it is a city that I can raise my family in.
The first time that I saw a
midwife
at Denver Health was when I was in labor with my second child. I was scheduled for a C-section, but on the day I went into labor, I came to Denver Health and met Certified Nurse Midwife Elizabeth "Eliza" Burelle. I asked her to give me a chance to have a natural birth. She gave me that chance on the agreement that if there were any risks, there would be a
C-section
. I birthed my child naturally. Eliza was with me for the entire birthing process. She is caring, supportive and has a kind heart. I think she is the best ever.
I requested to see Eliza again when I became pregnant with my third child (and my fourth and fifth children). I saw her for my
OB care
, during
the pregnancies and the deliveries
. I requested her again and again because of the loving care she provided to me during my first experience at Denver Health.
I loved having Eliza there during my pregnancies because as a midwife, she gives extra support and care for her patients.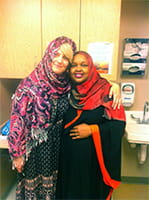 Eliza is very patient-friendly, and she was supportive of me through the entire delivery, every time. Even when her shift was over, she continued to stay with me. She went above and beyond in her care. She made sure I had a healthy pregnancy and that I delivered healthy babies.
I consider Eliza to be a part of my family. She helped deliver five of my children and never missed a single delivery. During all my pregnancies, she would check up on me every few minutes, making sure I had everything I needed.
To anyone considering using a midwife for their pregnancy, I would tell them to go to Denver Health. They have the best midwives and nurses.
After my children were born, I continued to take them to Denver Health for their pediatric care.
Dr. James Kaferly
is my favorite doctor. He's always friendly with my children and he always makes sure they get the best care.
Denver Health changed my life, and has continued to provide quality care to me and my family for many years.