Cyclist "Left to Die" is Put Back Together at Denver Health
June 10, 2020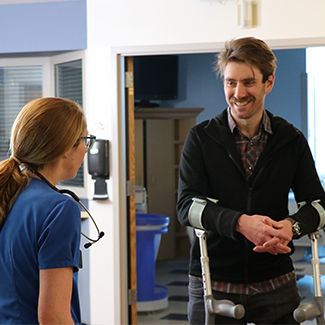 Almost a year ago, Andrew "Bernie" Bernstein almost lost his life while doing what he loves.
On July 20, 2019, the marketing professional and amateur bike racer was riding his bicycle just outside of the city of Boulder. He was on his way home after a training session for an upcoming race.
"Anybody who is the partner or loved one of a serious cyclist I think can really relate with this – you just know how dangerous it can be on the roads," Bernstein's fianceé, Gloria Liu, reflected. She said it was always in the back of her mind that he could be hurt or killed while riding.
On that late afternoon July day, Bernstein rode home looking forward to having dinner with his fianceé. It was a dinner that never happened.
The Crash He Never Saw Coming
He never saw it coming – a van hit Bernstein from behind, knocking him off his bike and leaving him on the side of the road with severe injuries. The driver took off. Bernstein expressed anger and deep frustration toward that driver who, "left him to die," in this recent Outside Magazine article.
"We later figured out from my GPS computer that I laid on the side of the road for probably about 45 minutes," Bernstein said, getting choked up. "The man who found me, his name is Tim Gillach and he was driving home from church with his father. They waited with me for the ambulance."
Liu fought back tears as she remembered getting that phone call and not knowing at the time what she would face. "As soon as somebody said 'this is the police department,' I just already kinda knew and they told me he was going to the emergency room and at the time I really didn't have a sense of how bad it was so I thought I'd go pick him up at the ER, he might get a cat scan or something and we would be there until midnight, it would be a pain in the butt and then we would come home."
The emergency room doctor in Boulder quickly recognized that Bernstein needed a higher level of care. He was put in a helicopter and flown immediately to Denver Health.
Specialized Care for Serious, Life-Threatening Injuries at Denver Health
"He had multiple injuries that were essentially threatening his life," said Denver Health Orthopedics Director, Cyril Mauffrey, MD. "Mr. Bernstein presented to Denver Health with multiple long bone fractures, a pelvic fracture, a spine fracture and a shoulder fracture."
Bernstein further described his experience in the hospital in the Outside Magazine piece, including the 10 surgeries he endured over 17 days, having all of his ribs broken, collapsed lungs, internal bleeding, a fractured vertebrae in his neck and back, damaged spinal cord and a paralyzed left leg.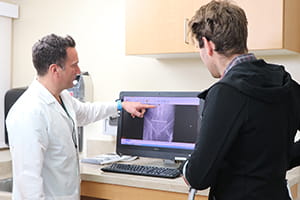 But he was alive and fighting to stay alive. Berstein's doctors credit Gillach, a fellow cyclist who had been hurt in a serious crash himself, for doing the right thing and coming to his aid, giving him the chance to recover.
"I was 30 minutes away from death, so I owe Tim my life. I'm very grateful that he found me."
Denver Health's Team Approach to Severely Injured Patients
Denver Health takes a team approach to caring for all patients – especially the most seriously injured. "Our level of expertise here is to deal with a severe injured patient, which involves the Surgical Intensive Care Unit (SICU) working together with our general orthopedic trauma colleagues," Dr. Mauffrey said.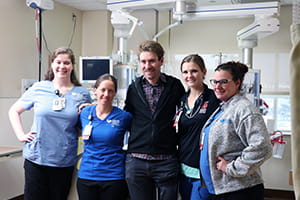 "I'm grateful that I was in good hands with Dr. Mauffrey and his team," Bernstein continued, "and I feel very lucky that I continue to have a lot of friends and family in my life who are actively engaged in my recovery. I'm especially grateful to Gloria who willingly helps me when I need help and lifts me up when I'm sad. I have a lifelong injury and I'm sad a lot and I'm just grateful to have someone as caring and loving as Gloria to help me."
"We're really doing the best we can to find beauty and joy and levity in life, that's like our little motto," Liu added.
Recovery and Support
After leaving Denver Health, Bernstein went to a long-term care facility and then through rehab, which he continues today. He is walking with crutches and still dealing with pain on a daily basis. Part of what helps with his recovery process is telling others his story and hoping to help educate them in the process. He urges all drivers to understand what it means to drive safely, without distractions, emotions or under the influence. The consequences of ignoring those warnings can permanently alter or end lives.
When Bernstein looks toward the future, he said he looks forward to getting back to the activities that he's enjoyed in the past, including skiing, hiking and traveling. But above all else, he said, "primarily just prioritizing my loved ones."
With the strong support system he has, there's no doubt that will be the easiest part of his recovery road ahead.