From Amputation to 100 Mile Races
August 16, 2018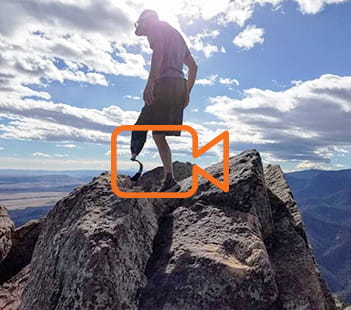 How Elite Athlete Dave Mackey Lost Part of His Leg and Got Back to Ultra Running
Anyone who is serious about running knows the name Dave Mackey. Mackey is an UltraRunner, defined as someone who is devoted to the sport of long distance running. UltraRunners typically run beyond the distance of a standard marathon, which is 26.2 miles. Mackey used to run about 70 miles in an average week!
In May of 2015, while coming back from a run near his home in Boulder, Mackey stepped on a rock on top of 8,500-foot Bear Peak. That step would take him out of running for almost two years. The rock – more like a boulder – is one Mackey said he had "stepped on hundreds of times." On that day, the estimated 400-pound stone slipped out of the soil and knocked Mackey down the hill 50 feet, landing on his left leg. His leg was crushed, and he was pinned there for hours until nearby hikers were able to somehow lift the giant rock off his leg.
Mackey spent weeks in the hospital – mostly at Denver Health – where Denver Health Director of Orthopedic Surgery Cyril Mauffrey, MD, FACS, FRCS, treated him. Mackey's shin bone was "shattered in multiple pieces," Dr. Mauffrey recalls. "He had an open tibia fracture with multiple bony fragments and pieces."
Mackey went through 13 different surgeries on his lower leg through the course of a year – suffering through several complications and lots of pain. In October, 2016, Mackey made the tough decision to have his injured leg amputated below the knee.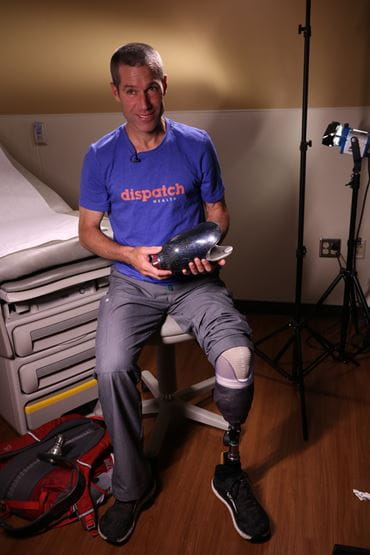 Mackey was fitted with a prosthetic leg, and recovery would take several more months. Mackey talked about "phantom pains" he continued to have after the leg was gone, as though it was still there. He said it took baby steps to get back to running, this time on the prosthetic.
In January, 2018, just over a year after his amputation, he ran a 50K race. In July, 2018, he completed both the Silver Rush 50-mile bike race, and the Silver Rush 50-mile run in Leadville the very next day. In August, he then completed the grueling Leadville Trail 100-mile bike race (placing in the top third overall) and is set to run the Leadville Trail 100-mile run this Saturday, August 18. Even when he's not competing, Mackey said that he is now back to running or going for a bike ride each day.
"Seeing Dave Mackey smile when he comes into the Denver Health Orthopedic Clinic, I feel extremely privileged that one of our patients has been able to resume normal activity and far beyond expectations," Dr. Mauffrey beamed with pride, "because it is inspiring for future patients."
Mackey's resiliency and willingness to continue pushing himself and his body to race after such a tragedy is unparalleled. Ultrarunning Magazine recognized his efforts in this May, 2017 article.
Dr. Mauffrey said there is a message to other patients experiencing similar challenges with limb injuries, that "when you sustain a terrible, mangled extremity, there really is light at the end of the tunnel. If you find the resilience, the force and the support, the outcomes can be outstanding."
Mackey summed his comeback up best: "I am someone who realized there are lots of people out there doing things that are incredible with one leg." Watch him tell his story in this short video.