Life Saved at Denver Health after Skiing Accident
November 15, 2018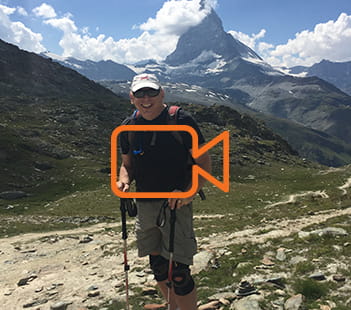 On February 11, 2018, Michael Rothschild was skiing at
Beaver Creek
. It was his last run of the day, and he admitted he was a bit tired. The 66-year-old fell, as many skiers do on their last runs, which Rothschild initially described as "a normal fall." But he soon learned that this fall was very out of the ordinary. To this day, he still has no idea why it led to a
complex pelvic fracture
.
After his fall, an ambulance rushed the Boulder resident to Denver Health, where he had surgery two days later.
Cyril Mauffrey, M.D.
, Denver Health's director of
Orthopedic Trauma and Research
, said Rothschild broke his
acetabulum
, known commonly as the hip socket. It was broken into multiple pieces and required Dr. Mauffrey to use a metal plate to repair it.
"Denver Health has an expertise at fixing those complex pelvis and hip socket fractures," Dr. Mauffrey said. "Denver Health sees an average of 120 of those pelvic and acetabulum fractures per year."
Rothschild, the founder and chairman of
Profit Velocity Solutions
, was determined to recover, for his family and his business. He credits the care he received from Denver Health and Dr. Mauffrey for getting him active again.
"To anybody who suffers a major injury like that, it's up to you [to recover], assuming you're lucky enough to have a doctor as good as Dr. Mauffrey," Rothschild smiled. "If you want to get better, you better be determined to get better. If you want to walk again, start walking."
Exactly 22 weeks after his injury, Rothschild sent a picture to Dr. Mauffrey from Zermatt, Switzerland, where he had just completed an eight-mile hike through the Swiss Alps. Just prior to that hike, he was able to dance with his daughter at a wedding.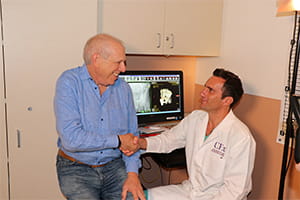 "I was determined to do it," Rothschild said while choking back tears. He plans to get back on the slopes and go skiing again this winter.
"I'm always surprised by my patients," Dr. Mauffrey remarked. "They always provide hope, and they always provide the drive for us to do our job to the best of our ability."
"Dr. Mauffrey saved my life!" Rothschild said enthusiastically. "I suppose [if I had not come to Denver Health], I would have continued to breathe, but it wouldn't have been a life that I want to live."