Gaining a New Family at Denver Health
April 11, 2017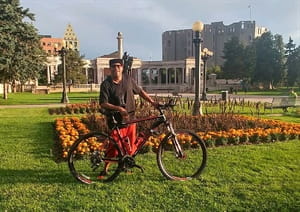 By Reginald V. Calvert
Today I'm 59-years-young and feeling better than ever.
The reason I feel this way is because not so long ago, I wasn't doing well. I had no insurance, was homeless and had no idea what would come next in life.
I had many preexisting conditions such as lupus and high blood pressure — which caused a stroke — just to name a few. Finally, in May 2012 I was approved for Supplemental Security Income Disability (SSID), which also allowed me to qualify for really good health care through Denver Health. My Denver Health Medical Plan has literally become the difference between a life of despair and a completely full and productive life today.
Before Denver Health, I was living in Arlington, Texas, with my mom, who was kind enough to put me up during my troubles after being homeless for two years in Colorado Springs. My mom was instrumental in giving me strength not only during this period, but really throughout my life. I used that to keep me fueled because, honestly, I was at a place in my life where I really did not want to be here anymore.
When I was accepted into the program, I immediately took a bus to Denver. As soon as I got there I began going through the process of signing up for primary care at Denver Health. This was a blessing in disguise because I needed all the help I could get, as I was diagnosed with lupus in 1993, had a stroke in 2008, and later was diagnosed with Raynaud's disease (diminished blood supply to body tissue), which really messed with my veins and blood circulation. These conditions gave me some ultimatums to get my health back, and change my lifestyle. I was told I needed to stop smoking, and although I wasn't really a heavy drinker, I was told to stop drinking altogether. To be honest, without physicians I would have been totally lost in this whole process.
To find a primary care location, I knew I could walk to the Eastside Family Health Center and that was a huge factor in taking the next step. I just had no idea how good that next step was going to be. In choosing a doctor, I kept seeing this name, Dr. Sarah Christensen and it just sounded right to me. Once I selected her and filled out the paper work and sent it out, the Denver Health network mailed me what I needed and I got an almost immediate return of access to Medicare through the Denver Health Medical Plan, Medicaid and primary care all in one week. I made my first appointment and I kid you not, the rest was history. Dr. Christensen was more awesome than I thought she would ever be. My primary care physician, along with my rheumatologist Dr. Lisa Davis became influential in getting my health and life back on track — and I feel they have done that and much more. The choices Dr. Christensen and Dr. Davis made in selecting the right specialist for my many ailments has helped to make my life much more enjoyable today.
After they first assessed my damage and really looked into my history, priorities were made and everyone — the neurologist, dermatologist, podiatrist — all from within Denver Health.
The effect was immediate. There wasn't much time between each specialist, and I felt they were all really connected in some sort of way. I can also remember both Dr. Christensen and Dr. Davis were pregnant and having kids throughout that time when I first came to Denver Health. It was the coolest. I was there, I took pride in seeing pictures of their families they were creating, and it made me feel like I was accepted as a part of their family. My past health care experience couldn't come close to this new kind of feeling I had at Denver Health.
Even a heart attack in January 2016 didn't slow me down on my climb back up the ladder to joy and happiness because I always knew I was in good hands with Denver Health, and just like clockwork, that they'd put "humpty dumpty" back together again.
Denver Health is truly the bright and shining light in my life today because of the people that were put in my path, and I feel forever indebted to everyone there. Right now, I have appointments scheduled throughout the rest of the year, because of the complexity of my medical issues, but I know I'm going to be led down the right path. I just saw Dr. Christensen for another primary care visit, and I see her every three months and look forward to it.
I learned that in life you can't take anything for granted, and the road that I had to travel, the route in which I took to get to where I am today, is all because of some bad things that happened in my life — it really took me a while to cherish the good things that were happening and now I have a whole other outlook on life.
The funny thing is — I feel lucky to be here because I'm still stubborn, but not too stubborn to realize what I need to be working on as I get older. Now I must do my part to stay healthy, but I know, without hesitation, if ever I'm in need of help medically, in any way, my Denver Health family will be there for me.