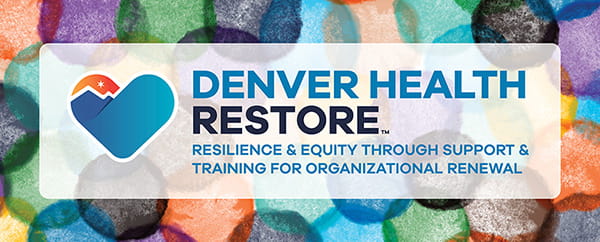 RESTORE, or Resilience & Equity Through Support & Training for Organizational Renewal, is an expansion of Denver Health's previous peer support program, RISE. RISE was a healthcare-specific peer program adapted from Johns Hopkins Medicine and Maryland Patient Safety Center. As the program gained traction among our personnel, we expanded service lines and offerings to provide more resources and support. The new name represents Denver Health's unique model. The mission of Denver Health RESTORE is "to promote increased and sustained mental well-being of the health professional workforce as well as individual, collective and organizational resilience through timely and confidential peer-delivered emotional support, psychological first aid, and training."
RESTORE offers expanded services in confidential peer support and now offers training, education and general support services in addition. The psychological burden of working under stressful circumstances can severely impact our well-being and our long-term health. RESTORE's Peer Responders provide strictly confidential emotional support, psychological first aid and a hand-off to resources when appropriate. This support can improve our personal and professional well-being.
All Denver Health employees, contractors, trainees and students are encouraged to utilize RESTORE services when in distress. RESTORE's peer support team is just-in-time emotional support, in the moment that we need it, available 24/7 at 303-436-7473.
Learn more about RESTORE at Friday's Fall Festival, where we will provide education on our expanded offerings and swag. If you can't make it to Fall Festival, you can learn more by emailing RESTORE@dhha.org or, starting next week, stopping by our center on the first floor of Pavilion B adjacent to the Workforce Development Center.
The RESTORE Support Center and the evening Coffee Nook adjacent to the Workforce Development Center will be closed on Friday, Oct. 28. The Denver Health RESTORE launch party is set for Wednesday, Nov. 2 – Dia de los Muertos – in the center in Pavilion B.
We are accepting applications from interdisciplinary folks across the institution for our RESTORE Peer Support Team. Email RESTORE@dhha.org.