Video visits are easier than ever for both staff and patients at Denver Health thanks to a new, Virtual Care Navigation Team. Led by Kristine Gaw, Virtual Health Operations Manager, the team is working to educate everyone on the benefits of seeing a provider virtually and move more patients from phone visits to video visits. A video visit is when a patient has a video call with their provider, using a smartphone, computer or tablet. Patients can connect using their MyChart accounts.
The main focus of the Virtual Care Navigation team is to take the burden of explaining technology away from clinic staff and to help patients troubleshoot and test technology before problems arise. Before a patient's first video visit, a member of the Virtual Care Navigation Team will contact the patient to make sure they are set up to have a successful visit, and then it's just three steps and they can connect. Providers also have just three steps to connect.
Three Easy Steps for Providers to Connect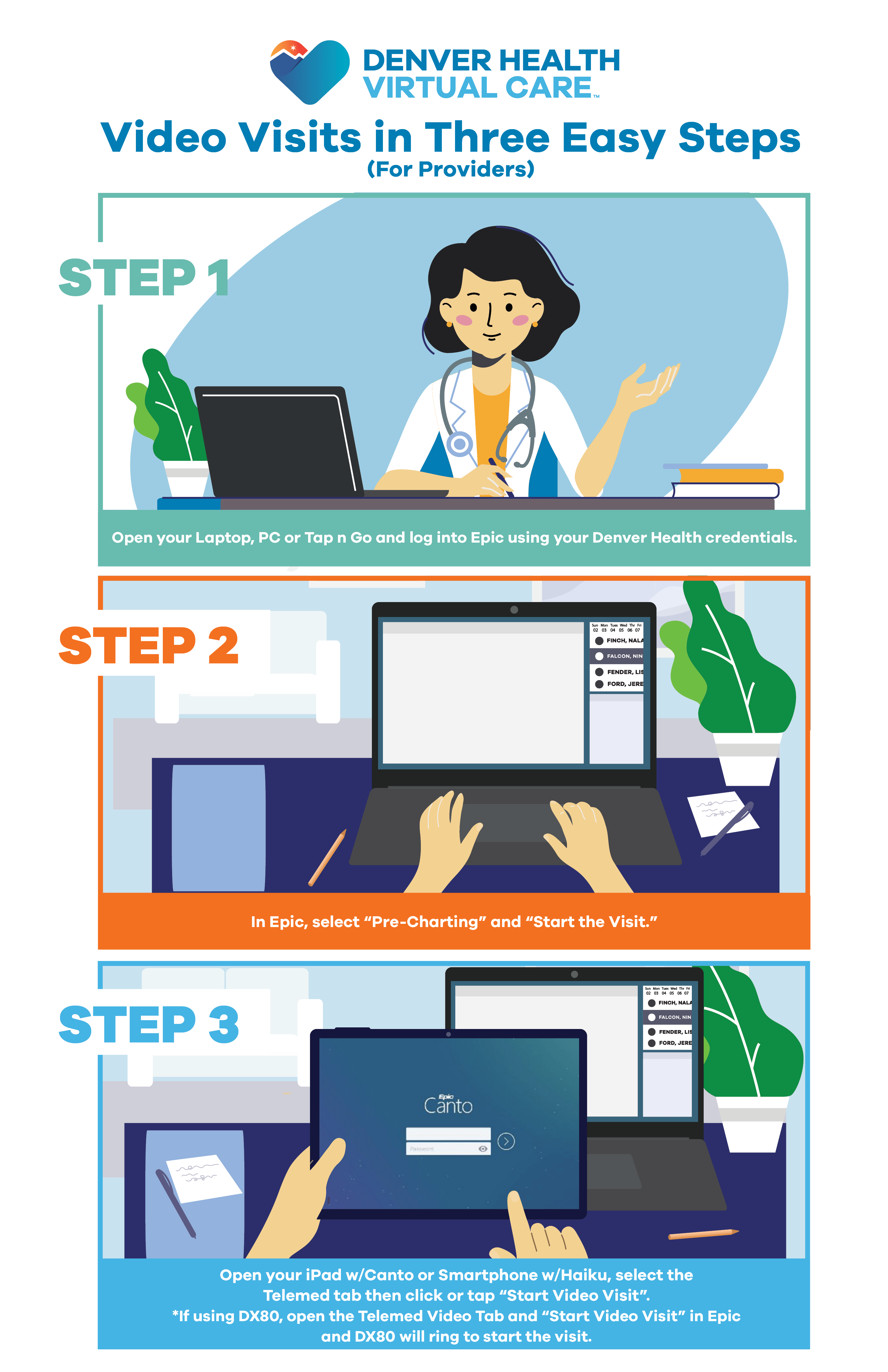 Three Easy Steps for Patients to Connect
Video visits are a convenient way for patients to see their providers, breaking down barriers to care that exist such as finding transportation, getting off work or finding childcare for kids at home.
The Virtual Care Team encourages providers to see their patients over video whenever possible.
Staff and patients can reach the Virtual Care Navigation Team from 8 a.m. – 5 p.m., Monday - Friday by phone at 303-602-2744 or via email at virtualcare@dhha.org for help with:
Video visit education
Video visit simulation
Comprehensive digital literacy checks
Epic eCheck-in walk-throughs
MyChart enrollment and education
Clinic staff can also reach the Virtual Care Team through Epic Secure Chat using the group "DH Virtual Care Team."
Video visits are secure, flexible, convenient, and also improve access to care for our patients. A video visit is available with all Denver Health primary care providers, some specialty providers, as well as for urgent care visits.
After ramping up rapidly in the pandemic, Virtual Care continues to expand at Denver Health through the further development of the Virtual Care team, led by Gaw. Several additional departments are testing virtual care with a select number of patients, and if the testing goes well, it will be offered to more. Currently, about 20 percent of all outpatient visits are provided virtually (phone and video).
Dr. Amy Lu, medical director at Westside Family Health Center adult clinic, says her patients appreciate the convenience of connecting online. "I see Virtual Care as meeting patients where they are," said Dr. Lu. "It can be difficult to come in to see your doctor for many complaints." Video visits allow her to help patients with conditions such as rashes, sore throats, diabetes, anxiety and more – right from their own homes.
Quick Facts
Denver Health continues to expand Virtual Care since its rapid growth during the COVID-19 pandemic.
The Virtual Care Navigation Team is available to help staff and patients at 303-602-2744 or virtualcare@dhha.org.
Clinic staff can reach the Virtual Care Team through Epic secure chat using the group "DH Virtual Care Team."
Virtual Care allows patients to see a Denver Health provider by video with a smartphone, tablet, laptop or computer that has a camera.
Patients can schedule video visits through MyChart, on Denver Health's website, at their clinic or through the Appointment Center.