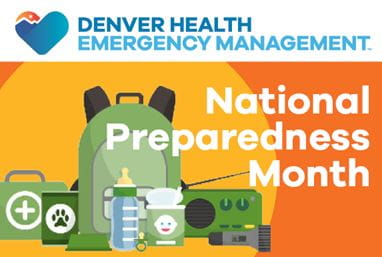 Denver Health's Emergency Management team is sharing tools and resources to help you stay safe. In celebration of National Preparedness Month in September, the team is encouraging staff to visit the Emergency Management site on the Pulse to view Denver Health's emergency quick reference guide (also known as the red book), an Emergency Management huddle sheet in English and Spanish, and a recording of our all-hazards emergency preparedness training to watch at your convenience. The site includes announcements on severe weather, mass gatherings and other situational awareness updates.
"In Emergency Management, we want to foster a culture of preparedness wherein all employees feel comfortable, confident, knowledgeable, and skilled to prevent, prepare for, respond to, and recover from situations which do or may have an impact to your safety or ability to do your job," said Emma Paras, emergency manager. "There are several steps you can take to begin your preparedness legacy!"
Are you signed up for Rave Alert? Denver Health uses the mass notification tool to send text messages to employees in the event of an emergency. To receive Rave alerts, you must enter your cell phone number in your Pulse profile. See instructions here. Employees with phone numbers in their profile will be entered in a raffle at the end of this month for one of two preparedness prizes.
Consider building an emergency preparedness kit for your home, work and car. Emergencies can strike without warning. Being prepared means having your own food, water and other critical items to last several days.
The Emergency Management team is here to support you on your journey to preparedness. Reach out with any questions at EmergencyManagement@dhha.org.