"Denver Health is guided by our True North to change the world by transforming the health of our patients and our community."

At Denver Health it is our mission to provide high-quality medical care for everyone, regardless of their ability to pay. But we know that clinical care alone only accounts for 20 percent of a person's health status. There are many other factors that impact a person's overall wellbeing including their access to healthy food, housing, employment and education as well as the physical environment in which they live. To truly care for the whole person, we as an institution must address all of those other determinants of health. And that is why we have committed to serving our Denver community as an Anchor Institution.
What is an "Anchor Institution?"
Anchor institutions are place-based, mission-driven entities such as hospitals, universities, and government agencies that leverage their economic power alongside their human and intellectual resources to improve the long-term health and social welfare of their communities.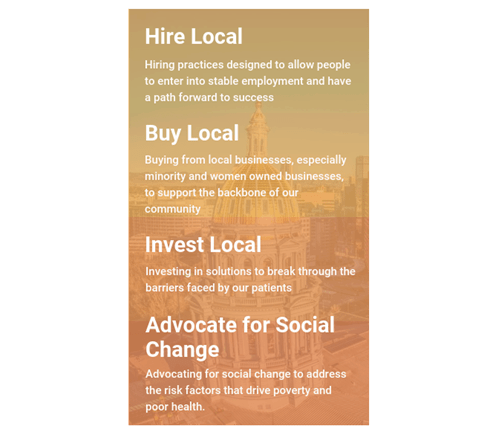 Denver Health is a $1.2 billion organization with 7,500 staff. We have the ability to affect positive change with that economic influence. Denver Health is committed to improving the overall wellbeing of the community we serve by hiring, buying and investing locally. We also pledge to advocating for the social and economic changes we know are required if meaningful change is truly going to take root in our community.
What We're Doing
Examples of our efforts include:
Providing health care screenings to 900 humanitarian parolees arriving in Denver from Afghanistan through our Afghan Refugee Response Team
A partnership with Emily Griffith to manage the OMC café, providing students with employment while learning new skills that can lead to a career;
A partnership with the Denver Housing Authority to develop a transitional housing unit so patients experiencing homelessness or need a place to heal and recover have a place to go. The adaptive reuse of 655 Broadway will transform the 10-story administrative office building, located on Denver Health's recently upgraded campus, into 110 furnished studio and one-bedroom apartments, 96 of which will be set aside for low-income seniors (62 and older). The remaining 14 apartments will serve as transitional housing for patients who require additional health care and housing support after being discharged from the hospital.
Hiring a local, minority owned real estate firm to handle the sale of Denver Health properties, giving a phenomenal real estate agent our business and helping our organization; and
Starting a supportive enrollment process to help families enroll in SNAP, WIC and whatever other programs they may qualify for, with the goal of helping to stabilize families and make sure children can flourish.
Supporting the well-being of the community we serve by providing job opportunities with growth potential. In this story that aired on Fox/KDVR, see how we partner with community organizations such as Activate Workforce Solutions, to place people in positions at Denver Health that give them an opportunity to find a job that can become a career.
Our History
We have truly been serving our community in this capacity since our inception. For 160 years, Denver Health has been dedicated to our missions – providing high-quality clinical care for all, educating the next generation of health care workers and contributing to an increased understanding of health and health care through research. For many years, we have seen that social factors, such as employment, education, housing and income are directly linked to health outcomes. Click here to see how poverty and life expectancy are related when seen on a map of Denver.
Joining the Healthcare Anchor Network (HAN)
Building on our long history of serving the people of Denver, in 2020 Denver Health joined the Healthcare Anchor Network (HAN), a national organization made up of 50 health care organizations dedicated to improving the long-term health and social welfare of their communities. The long-term goal of the HAN is to reach a critical mass of health systems adopting as an institutional priority to improve community health and well-being by leveraging all their assets, including hiring, purchasing and investment for equitable, local impact.
By doing so, we can powerfully impact the upstream determinants of health and help build inclusive and sustainable local economies.
In September, Denver Health along with 38 other members of the HAN declared Racism a Public Health Crisis.
The HAN issued the statement on behalf of Denver Health and the other leading health care systems to send a powerful message. We believe that as anchor institutions, we can, and must use our influence and economic power to address the inequities that impact the health and wellbeing of people in our community.
It is undeniable that racism is a public health crisis. In Black and Indigenous communities and communities of color we see higher rates of illness and death as a result of systemic racism expressed in many ways, like underemployment, inadequate housing and food deserts.
See Denver Health's efforts as an anchor institution in this YouTube playlist.