Bike Safety Tips
January 01, 2017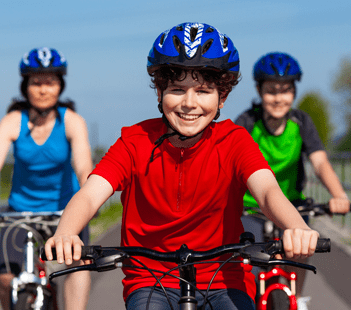 Ensure Proper Bike Fit and Always Wear a Properly Fitting Helmet
Bring your child when shopping for a bicycle to make sure it's the right size for the child — not one they'll have to "grow into." The child's feet should be able to touch the ground when sitting on the seat. Before using your bicycle, always make sure it's ready to ride by inspecting all parts are secure and working properly. The best way to reduce head injury and death from bicycle crashes and outdoor recreation is by wearing a properly fitting helmet.
See and Be Seen
Whether riding at sunrise or sunset, or even during bad weather, you need to be seen by others. Wearing white doesn't mean it's easier to see you. It's best to wear neon, fluorescent or other bright colors, or something that reflects light so you can't be missed. Remember, just because you can see a driver doesn't mean the driver can see you.
Control Your Bicycle
Always ride with at least one hand on the handlebars. Carry books and other items in a bicycle carrier or backpack
Cycling should be restricted to off-roads (sidewalks and paths) until age 10
Adult supervision of child cyclists is essential until they've learned good traffic skills and judgment
Children should be able to demonstrate riding competence and knowledge of the rules of the road before cycling with traffic.
Always model and teach proper behavior. Learn the rules of the road, and obey all traffic laws.
Ride on the right side of the road, with traffic, not against.
Stay as far to the right as possible.
Use appropriate hand signals.
Respect traffic signals, stopping at all stop signs and stop lights.
Stop and look left, right and left again before entering a street or crossing an intersection.
Look back and yield to traffic coming from behind before turning left
Watch for and Avoid Road Hazards
Be on the lookout for hazards that could cause a crash such as potholes, gravel, broken glass, leaves, gravel, puddles and dogs. If you are riding with friends and in the lead, yell out and point to the hazard to alert the riders behind you.
Download Bike Safety Tips PDF