Denver Health Supports Bill to Increase Vaccination Rates
May 01, 2019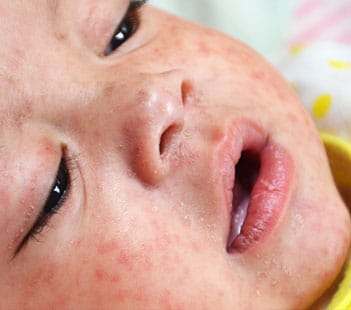 A Denver Health Physician's Perspective
More than 700 cases of measles have been recorded across the country since January. But only 89 percent of kindergarten-aged children in Colorado have been vaccinated, according to the Centers for Disease Control and Prevention (CDC).

Low vaccination rates put vulnerable community members, such as infants too young to receive vaccinations, the elderly, or those with compromised immune systems, at risk for vaccine-preventable diseases.

"There are no treatments and cures for measles and no way to predict how bad a case will be," CDC Director Robert Redfield, M.D., said in a recent media briefing. Measles is a highly contagious virus that starts with a fever, runny nose, cough, red eyes and sore throat, followed by a rash that spreads all over the body. Some people may suffer severe complications, such as pneumonia (infection of the lungs) and encephalitis (swelling of the brain).

Nine out of ten people who are not immune and share living space with an infected person will be infected.

Denver Health is supporting state legislation, House Bill 19-1312, to strengthen and modernize how exemptions are granted for school immunization requirements, based on evidence-based strategies and with the goal of increasing Colorado's vaccination rates.

Increasing vaccination rates will protect our most vulnerable children, including newborns, children born without normal immune systems, and those receiving chemotherapy.

The bill would create a standardized exemption form and require all exemptions be submitted to the state health department or the local public health agency.

We have a shared responsibility to keep children safe and healthy, and this bill includes proven ways to increase Colorado's vaccination rate and decrease the risk of vaccine-preventable disease.
Anne Frank, M.D. is an internal medicine physician at Denver Health.

All of Denver Health's School-based Health Centers offer vaccinations during the school year, with one location offering vaccines year-round. Visit DenverHealth.org/SBHC for school clinic details.
Photo credit: Jim Goodson, M.P.H., Global Immunization Division in the Center for Global Health