New Career at Denver Health for One-Time Addict
July 02, 2019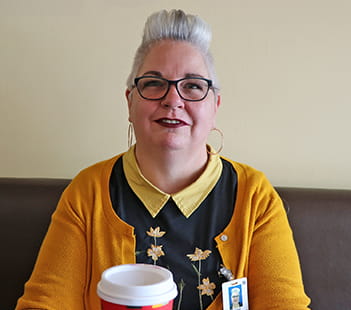 More than 15 million American adults struggle with alcohol abuse,
according to the most recent National Survey on Drug Use and Health
. It can be especially tough to control those addictions around the holidays. Studies show alcohol consumption typically
goes up during the summer
and with the Independence Day holiday coming up this week, it's worth sharing the story of a Denver Health addictions counselor and one-time addict who found her way to a new career in an inspiring and unusual way.
We met up with Christine Russell at a local coffee shop, where she was quick to point out that she hasn't touched alcohol for more than seven years. "It does nothing for me. I'd rather have coffee," she said and smiled. But, it wasn't always that way.
Russell joined Denver Health in March of 2018 as an intern at
Denver CARES
, a medical facility that offers substance abuse evaluation and non-opiate drug and alcohol treatment and detoxification. The facility is open 24 hours a day, seven days a week, with a staff of registered nurses, behavioral health technicians, licensed mental health clinicians and addiction counselors. Russell is now one of those addictions counselors, helping primarily low income and homeless patients get clean through a 45- to 90-day residential rehab treatment program.
"I celebrate their successes with them, tell them to be kinder to their bodies," Russell said. She knows how to work with addicts because she once was one.
For nearly 20 years prior to working at Denver Health, Russell was an electrician – working in a career field that according to government statistics is made up of just between one percent and three percent women. Russell went into the field primarily because, as a single mother of two, she knew she could make a good living to support her children and because she had a background in it from her time serving in the U.S. Army. The downside, she said, is she was working in an environment that was very toxic to women. Her way of coping – she became a self-described "heavy drinker."
The
National Institute on Alcohol Abuse and Alcoholism
defines "at risk" alcohol consumption as having more than four drinks on any single day for men and more than three drinks a day for women. Russell said that she would come home from work in the late afternoon, make dinner for her kids, then go to her neighborhood bar and stay until closing. She estimated that she would drink at least 10 to 12 beers a night.
Then, one day in 2011, she was working with two apprentices on a job at Lockheed Martin. Near the end of her shift, the three were unloading piping from a truck, including one pipe that weighed around 250 pounds. "The second we got that pipe off the end of the truck, I heard a popping sound in my knee. It was at that moment, that I knew my career as an electrician was over," Russell reflected.
She tore her ACL and it would require surgery. It would be the seventh surgery on her leg for job-related injuries. Russell's premonition was right. She was laid off from her job.
In May 2012, she had that ACL surgery. "I was the recipient of a donated hamstring which was used to repair my torn ACL," Russell said. The donated hamstring came from a male cadaver. Russell joked because the doctors used only use male replacement parts that she is "finally one of the guys."
But something more remarkable came out of that surgery. Russell called it a spontaneous remission from her alcohol addiction.
"I woke up from surgery and suddenly thought, 'alcohol sounds terrible,'" she said. Russell soon gained a love for root beer, something she had never liked before. It was the start of her sobriety and a new career.
After recovering from surgery and getting back to walking normally again, Russell had to figure out what she would do for a living. Being an electrician was all she knew. Addiction ran in her family (she lost a brother to addiction and suicide), and she knew she wanted to help others.
"My kids, now both in their 20's, got together and decided they would send me to college," Russell tearfully recalled. "They wanted to help me give myself to the world."
Russell enrolled at Metropolitan State University of Denver where she earned a bachelor's degree in human services with a concentration in addiction studies. Her choice to put that degree to work as a certified addictions counselor at Denver Health was an easy one, something that was at the core of her nature of helping and giving back.
"I get to go to work and at the very least, show my patients some kindness – kindness that they are not getting out on the street," the Denver native said. "These are my people – this is my community."
Russell believes in the harm reduction model of care, helping her patients get better and improve their quality of life in any way she can. She puts inspirational quotes up on a bulletin board and plays trivia with them. Engaging them and making them smile goes a long way, she said.
Russell plans to go back to earn her master's degree soon because she knows that even though it took some time to find it, this is the career she was meant for. Her patients and the quality of her fellow staff is what Russell loves most about working at Denver Health.
"One hundred percent I believe this is my true calling. Even on my worst day as an addictions counselor, I know I've been kind to my patients. I try to find a way to relate to them. I tell them there is no judgment in my office. I celebrate their successes and they celebrate mine, too."
If you or someone you know needs help with an alcohol or drug abuse problem, you can contact Denver CARES at
303-436-3500
.