1918 Pandemic Flu versus Novel Coronavirus: Part 2
April 16, 2020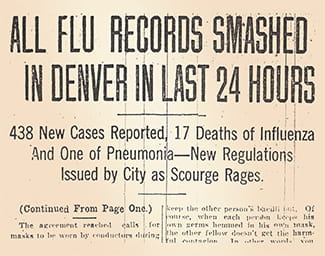 This is our second of two blogs comparing the 1918 pandemic flu to the novel coronavirus (COVID-19). In this blog, we focus on a second wave of cases which led to a record-setting new spike in deaths, claiming more lives in Denver than all Coloradans killed in World War I. It is an important lesson to keep in mind as we as a society consider how and when to go "back to normal" after the threat of the COVID-19 pandemic.
Denver's 1918 Influenza Deaths Surge Again
On Armistice Day, November 11, 1918, Denver residents poured out of their homes to celebrate the end of World War I. Many had lost relatives in the conflict. Sixteenth Street was clogged with bystanders and Model-T buggies. Nearly everyone wore long woolen coats and hats to ward off the chilly weather. Despite their precautions, some found themselves in bed with terrible colds. A few days later, they were dead, victims of the pandemic flu.

The disease had been stalking the city for months – through most of September, October and early November of 1918. City health officials shut down the city on October 5, 1918, and quarantined the homes of influenza sufferers. Just when it appeared they were winning the fight, Armistice Day came along.
Two weeks later, a headline in the Denver Post captured the devastation: "All Flu Records Smashed in Denver in Last 24 Hours." The November 27, 1918, article accompanying the headline stated that the pandemic flu had claimed more lives in Denver than all of the Coloradoans killed in World War I. Hundreds of new cases had been reported.
Health Officials Frustrated by Lack of Taking 1918 Pandemic Seriously
The spike in deaths frustrated health officials, including Dr. William Sharpley, who for many years oversaw the County Hospital, the precursor to Denver Health. An editorial writer for Municipal Facts, a monthly magazine produced by the City and County of Denver, expressed their collective frustration:
"For some reason, even the most enlightened citizens will not take the influenza epidemic seriously. They know that it is the most widespread epidemic that has ever visited America. They know the disease is a deadly menace and snuffs out life almost before the victim realizes he is ill. Yet when health officers try to impress upon people the necessity of following essential rules and regulations, the average citizen simply refuses to heed these admonitions. Obviously, it is impossible to arrest the entire citizenship of the city and this is what health authorities would have to do if they attempted to enforce rules to the letter."
Mary McElroy drove a Model-T buggy through snow and mud on Leetsdale Drive, delivering food to neighbors. They would be fine one day, and dead the next. "It was very depressing. I felt terrible, of course," McElroy told the Denver Post.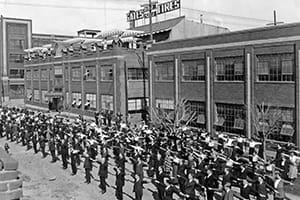 Pam Prentice remembered sitting on the porch of her home with another neighbor when a doctor passed by. He chastised the two young girls, saying they shouldn't be sitting on the porch with so much sickness going around. "I think the doctors were more frightened than anyone," Prentice recalled. Social distancing was encouraged in 1918 as well.
Pathologists doing autopsies were horrified when they examined the lungs of influenza victims. The tiny air sacs were filled with a frothy mixture of blood and fluid. "Instead of floating in water, as you would expect a balloon-like entity to do, they plummeted to the bottom of the buckets with a resounding thud," an author writes on Medscape.
New Shut-Down Order Opposed
Health officials in Denver deliberated whether to issue a drastic new shut-down order, which would apply to banks, stores, and offices. (They had been exempted from the first shutdown order, which closed schools, churches, reading rooms, pool halls, theaters, and moving picture shows.)
The city's business leaders opposed such a drastic measure. So banks, stores and offices were allowed to remain open as long as employer and employees wore masks. Police officers were sent out to make sure everybody was complying with the new order. "The mask is not to prevent the person wearing it from gathering bugs, but to prevent the wearer's germs from getting to the other fellow," explained one health official. "In other words, you protect the other man; the other man protects you.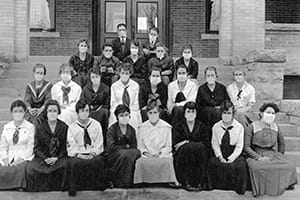 Mask Effectiveness Questioned During 1918 Pandemic
Dr. Sharpley questioned the effectiveness of masks. He reviewed statistics showing the death rate in San Francisco, where masks were required, and the death rate in Los Angeles, where they weren't. The numbers showed masks reduced the death rate only slightly. Nevertheless, Dr. Sharpley believed that masks should be tried. "It must be borne in mind that this disease is entirely new in this epidemic form, and exceedingly fatal. Any suggestion that promises relief should be tried."
Read part one of the blog comparing COVID-19 and the 1918 pandemic flu, which includes a medical perspective from Denver Health's Chief of Infectious Disease. Stay informed about the current pandemic and Denver Health's response at DenverHealth.org/coronavirus.