Why It's Important to Get Your Child Vaccinated During COVID-19
July 20, 2020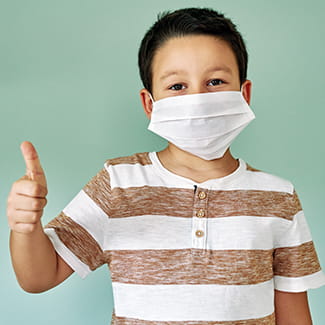 This is normally the time of year when Denver Health doctors, nurses and other providers remind parents to get their children up to date on their vaccinations before heading back to school. Just because we are living with the novel coronavirus (COVID-19) pandemic does not mean we should not stay on top of keeping children vaccinated. In fact, it is more important than ever this year.
Vaccination Rates During COVID-19 Dropping
Denver Health Federico F. Peña Southwest Family Health Center pediatrician Nicholas Gilman, MD is already concerned about the upcoming school year because of what happened with his patients during the Spring coronavirus lockdown. "We saw a dramatic dip in the number of children receiving recommended vaccines for preventable diseases such as measles, pertussis and chicken pox during that time," Dr. Gilman noted. "In order to prevent disease and prevent epidemics of new diseases, you need to keep 95 percent of the population of children vaccinated. If we even go beyond five percent [of children not vaccinated], this puts lots of children at risk for preventable diseases."
Dr. Gilman encourages everyone, whether they are a Denver Health patient or not, to go to their home primary care clinic and see their doctor for regularly scheduled check-ups. "We have a lot of uncertainties but we shouldn't be concerned that there could be a new vaccine-preventable epidemic in the schools because children aren't vaccinated."
Vaccine Schedule
Call your doctor if you need information about what vaccines your child needs and when. The Centers for Disease Control and Prevention provides this vaccine schedule as an online resource.
Safety at Denver Health During COVID-19
Denver Health is safe for children and families to visit during COVID-19. All of the safety measures being taken at our hospital are also being implemented at all nine of our Family Health Centers and at our 18 School-based Health Centers.

"The clinics are safe – don't wait until the last minute to get your children vaccinated," Dr. Gilman advised.
How to Make an Appointment to Get Your Child Vaccinated
There are several ways parents can easily get their children's vaccines up to date. We ask that you please make an appointment ahead of time if possible so that we can limit the number of patients in a clinic at any one time and continue to practice social distancing to help stop the spread of COVID-19:
Stay informed on Denver Health's ongoing response to the COVID-19 pandemic at DenverHealth.org/coronavirus.