Breast Cancer Awareness Month 2020
October 07, 2020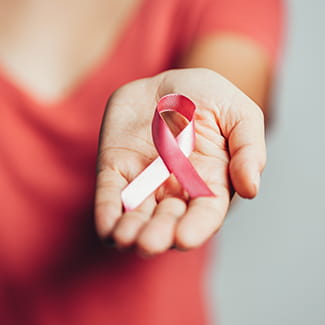 October is Breast Cancer Awareness Month and Denver Health wants to make sure you know your risk and take the proper steps to keep yourself healthy and safe from this deadly, but survivable disease. We are urging all of our patients to make sure that they continued to get screened for breast cancer, especially during the COVID-19 pandemic.

"Do not delay getting your routine mammogram and come in right away if you feel a lump in your breast," said Denver Health Diagnostic Radiologist and Head of Breast Imaging and Intervention Erica Pollack, MD. "Denver Health has taken special precautions to make it safe for you to come in. Mammograms save lives."
Risk Factors for Breast Cancer
According to the Centers for Disease Control and Prevention, every year, more than 250,000 women in the United States get breast cancer and about 42,000 women die from the disease. It is the most common cancer affecting women. If the current rate stays the same, about one in eight women will have a chance of developing breast cancer at some point in their lives.

Men can also get breast cancer, but it is much less common. About one out of every 100 breast cancers diagnosed in the United States is found in a man.

Most breast cancers are found in women who are 50 years old or older, but breast cancer can also affect younger women.
Breast Cancer Resources and Education
Denver Health's expert oncologists, nurses and technologists have put together this page with resources and education on both preventing breast cancer and what you need to know if you are diagnosed.

We encourage patients to talk to their doctors about their risk and things they can do to prevent getting breast cancer.

Find more information on the symptoms of breast cancer.
Getting a Mammogram at Denver Health During COVID-19
Breast cancer screening at Denver Health is performed by taking a low-dose X-ray of both breasts. This test is called a mammogram.

Most women between the ages of 50 and 74 should get a mammogram ever year or every other year. Depending on family history, some women outside of that age range may need to get mammograms as well, which is why it is important to talk with your doctor first.

Breast screenings are available at Denver Health's main campus (Pavilion A, Women's Imaging) and will soon be available again at the Women's Mobile Clinic.

To schedule your visit, call our appointment line at 303-436-4949 or online using the free MyChart app.

Women who meet certain criteria may qualify for free and reduced-cost breast screenings through the Women's Wellness Connection.
Getting a Mammogram at Denver Health During COVID-19
When you come into a Denver Health location to get your mammogram, you can be assured that we have taken extra safety measures to keep you safe from the spread of COVID-19 and any other contagious diseases. That includes extra cleaning and sanitizing of clinic and patient rooms and waiting areas, temperature screening at the door, wearing masks, social distancing and increased access to hand hygiene.

Patients should also know that telehealth appointments are available with your primary care doctor to determine your risk factors for breast cancer; please ask for this option when you call to make an appointment or select the option on MyChart.