How to Prevent the Spread of the Novel Coronavirus at the Grocery Store
November 19, 2020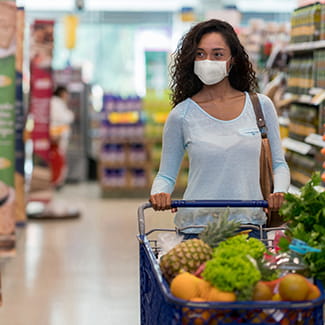 Updated 11/19/2020: As of Friday, November 20, 2020, 15 Colorado counties, including Denver, will move to tougher public health restrictions to stop the spread of the novel coronavirus (COVID-19). The Colorado Department of Public Health's new "Level Red: Severe Risk" means that everyone is required to stay at home except for grocery shopping, exercise, and necessary activities. Only critical businesses, such as grocery stores are open. The Centers for Disease Control and Prevention is recommending people avoid travel for Thanksgiving and celebrate the holiday only with the people who live in their own households. The stricter restrictions are because of a rise in COVID cases, positive test results and hospitalizations.
The weekend before Thanksgiving has always typically been one of the busiest shopping times at the grocery store pre-COVID-19, and so during the pandemic and this spike in cases, the key to slowing the spread of the virus is to make sure that we all continue to work together and keep everyone safe. So before your next shopping trip, here are a few good reminders to make sure everyone stays safe.
How is the Novel Coronavirus Spread?
Denver Health chief medical officer and infectious disease physician Connie Savor Price, MD wants to remind everyone that the primary way that COVID-19 is transmitted is from person-to-person, in close contact, through respiratory droplets.
According to the Centers for Disease Control and Prevention (CDC), it may be possible that a person can get COVID-19 by touching a surface or object that has the virus on it and then touching their own mouth, nose, or possibly their eyes, but this isn't thought to be the main way the virus spreads.
"When you go to the grocery store, remember to stay at least six feet away from the other customers, wear your face cover or mask and if you're touching something that potentially could be contaminated, make sure to wash your hands or use your waterless hand sanitizer," said Dr. Price.
She noted there is one thing people should not do when out in public.
Can Wearing Gloves Help Stop the Spread of the Coronavirus?
"Do not wear gloves. There's no need," Dr. Price urged. She went on to explain that part of the problem is the process of putting on the gloves and taking off the gloves.
"When you put them on, you are touching the outside of the gloves, and if your hands are not clean, anything on your hands will be transferred onto the gloves which can then be spread to others. Once the gloves are on your hands, you are touching surfaces that can potentially be contaminated. When you go to take the gloves off, it's hard not to contaminate your hands, because you are touching the outside of the gloves again."
"So really there's no benefit to wearing gloves over just washing your hands or using waterless hand sanitizer before and after you handle some object that potentially could be contaminated."
So in summary, wearing gloves could, in fact, put you at greater risk of transmitting or contracting COVID-19.