The Benefits of Using Mail Order Pharmacy
November 04, 2020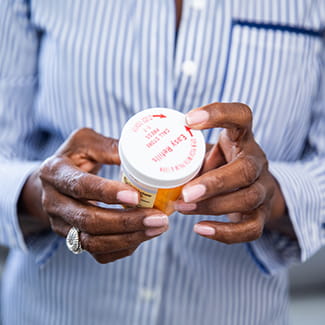 How Getting Your Prescriptions Through the Mail Might Make You Healthier
When Denver Health expanded Pharmacy by Mail earlier this year in response to increased demand from the novel coronavirus (COVID-19) pandemic, we found that the benefits for our patients went far beyond the ease, convenience and safety of this important service. Using any mail order pharmacy service can actually help you improve your health and might just save your life.

One of the biggest issues facing health care is patients who do not stay on their prescribed medications. This is an issue even among patients who have good insurance and good prescription drug benefits. When it comes to patients with chronic conditions, such as diabetes and hypertension, only about 50-60 percent who intend to get their medications refilled at a physical pharmacy or drug store, actually do it.

Reasons for not getting prescription drugs refilled can vary, from problems with transportation to a busy schedule, forgetfulness or procrastination.

While it may not seem like a big deal to go off of meds for just a little while, patients often forget that it could lead to much bigger health problems, requiring more visits to the emergency department and even hospitalization.
Our pharmacists reviewed several studies that found patients who use mail order pharmacy have improved health outcomes, because they are better about staying on their medications.
Those studies also show that at least 100,000 preventable deaths occur in the United States each year due to people who are not taking their medications. Among those who are prescribed medications for diabetes, high cholesterol and high blood pressure – the direct health care costs resulting from those who do not take their meds resulted in an estimated $105.8 billion in the United States in 2010 alone.
Reasons to Choose Mail Order Pharmacy
There are many reasons to choose mail order pharmacy, known as Pharmacy by Mail at Denver Health, whether we are in a pandemic or not.

The studies find that fewer mail order pharmacy patients under the age of 65 had an emergency department visit compared to those using a traditional pharmacy.

Patients prescribed medications for diabetes, high cholesterol and high blood pressure are 18 percent more likely to refill their prescriptions if using mail order pharmacy than a traditional retail location and nearly 22 percent more likely to refill if using a combination of mail order and retail.

On average, mail order pharmacy patients saw more days of prescription supply, regular refill reminders and more convenient options to reorder medication, such as through Denver Health's free MyChart app, than patients who use a traditional pharmacy.

The disease and sickness rate is lower as well.
How to Set Up Mail Order Prescriptions
Patients can set up Denver Health's Pharmacy by Mail through one of three easy options:
Through the free MyChart app
By calling the Automated Refill Line at 303-389-1390
By calling the pharmacy directly at 303-436-4488 and selecting "1" for English or "9" for Spanish and then option "8" to speak directly to a member of the Denver Health Pharmacy from 9 a.m. - 5 p.m. on weekdays. (Other languages are available, please select "1" and ask for an interpreter when you call)
Patients, you can also ask your provider to set up your new prescriptions to be Pharmacy by Mail during your telehealth or in-person appointment. A pharmacist will contact you after your visit to consult with you over the phone on the new medication and collect your payment and shipping information.

To stay up to date on all of Denver Health's efforts to stop the spread of the novel coronavirus (COVID-19) and keep you safe, visit DenverHealth.org/coronavirus.