Skin to Skin Contact Benefits Babies in the Age of COVID-19
May 26, 2021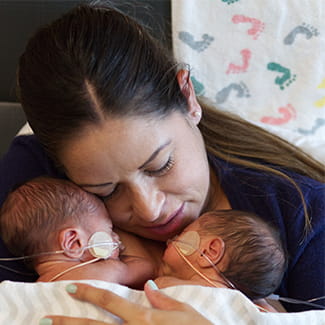 Denver Health Kangaroo-a-Thon Still Going Strong
For the second straight year during the novel coronavirus (COVID-19) pandemic, Denver Health's Neonatal Intensive Care Unit (NICU) is proud to continue taking part in the annual Kangaroo-a-Thon, to encourage skin to skin care between parents and their newborn babies.
Each year, the Denver Health NICU takes part in this friendly competition between NICUs around the world to see how much skin to skin contact parents can provide to their babies over two weeks, leading up to Kangaroo Care Awareness Day, which is on May 15. Although the official competition between hospitals was suspended during COVID (due to staff being diverted to critical care and COVID units at other facilities) Denver Health was able to continue the tradition just within our hospital in 2020 and 2021. The NICU nurses are able to offer prizes to the winning families thanks to Denver Health's Child Life team. This year, the Guzman family won the top prize for holding their twins (a boy and a girl) for 28 hours each. That's a total of 56 hours for one family. What's more amazing is both twins were discharged to go home just halfway through the event; imagine if they had been in the competition the whole time! From May 1st to May 15th the Denver Health NICU documented a total of 142 hours of skin to skin holding, which is an average of just under an hour per baby each day!
Even during the COVID-19 pandemic, this year's event was still held with safety in mind because Denver Health's NICU has had a long-standing strict policy of limiting visitors and had already required a daily health assessment for parents, prior to the pandemic.
What is Skin to Skin Contact?
Skin to skin contact, known as kangaroo care in the NICU, is when a baby that is naked and only wearing a diaper is placed lying flat, face down, on their parent's bare chest right at birth or soon afterwards.
In humans, routine mother-infant separation shortly after birth is unique to the 20th century. This practice diverges from evolutionary history, where neonatal survival depended on close and virtually continuous maternal contact.
Skin to skin has many documented benefits for both the baby and their parents. Denver Health NICU Lactation nurse Kelly Huber, RN said she and the other NICU nurses, "love providing this essential bonding experience."
Skin to Skin Contact Benefits
Skin to skin contact is beneficial for both the baby and the parent, both long-term and short-term.
Denver Health neonatalogist Madoka Hayashi, MD pointed to a 20-year study of children who grew up after having skin to skin contact as babies. Dr. Hayashi said those children had less absenteeism from school and reduced hyperactivity, aggressiveness and bad behavior compared to children who did not have skin to skin contact. The parents of those children were found to be more protective and nurturing as well.
"Skin to skin, also known as kangaroo care, provides not only physiological benefits but also psychological benefits to both babies and parents," said Dr. Hayashi. "Not only are there short-term benefits while in the NICU but it also provides life-long advantages for them. It is like medicine and we want every dad to do kangaroo care, not just the moms!"
Skin to skin benefits for NICU babies include:
Helping them stay warm
Sleeping longer and breathing better
Increased weight gain
Increased brain growth
Reduced pain
Stabilized heart rate
Less crying
Better bonding with parent
Lower risk of infection
Skin to skin benefits for parents include:
Decreased stress
Increased bonding with baby
Increased confidence in ability to care for the baby
Can help increase a mother's milk supply and help customize mother's milk for her baby
Reduced hospital stay
Huber notes how quickly the benefits can be seen as she works with patients on a daily basis. "I recently took a baby who was on a breathing machine because he was breathing too fast at 120 breaths per minute and placed him skin to skin with his mom and immediately, the child's respiratory distress improved. He calmed and started breathing at a normal range of 40 times per minute. Mom felt relieved and started crying saying, 'I feel so much better and that everything is going to be okay now.' That's the best part of my job!"
Denver Health NICU nurse Jackie Dicharry, RN added, "All the time we see when babies are held skin to skin they don't need as much oxygen, and their temperatures are more easily regulated. They seem able to rest and sleep more comfortably. When a mom or dad looks up and sees that their baby doesn't need as much oxygen because they are holding them, they feel like they are an important part of their baby's care."
How Long Should Parents Practice Skin to Skin With Their Babies?
Skin to skin should be practiced as much as possible while in the hospital to promote breastfeeding and prevent overstimulation of the baby.
After leaving the hospital, according to La Leche League, there is no specific age in which skin to skin is no longer recommended.
Denver Health NICU nurse Brittany Boyajian, RN said, "The mother's body is the baby's habitat. Typically we see skin to skin mostly for newborns up to three months old in the NICU setting."
Skin to Skin at Denver Health
Three years ago, we started the initiative to offer skin to skin contact immediately after delivery for all C-section moms at Denver Health. With vaginal deliveries, babies are placed skin to skin immediately and left there for the first hour of life to promote breastfeeding and bonding. After one hour of life, the admission nurse is allowed to move the baby to the radiant warmer to do an assessment, but the infant is kept close to mom, in the same room, to promote frequent breastfeeding.
Kangaroo care is encouraged as early as possible in the NICU once a baby is stable. "Even if the baby is on increased respiratory support or born very premature, we make it a priority for parents to do skin to skin as soon as possible," said Boyajian. "This can be done at the bedside with assistance from the NICU Team."
NICU Kangaroo-A-Thon 2021
NICU Kangaroo-A-Thon 2020