National Influenza Vaccination Week 2021
December 05, 2021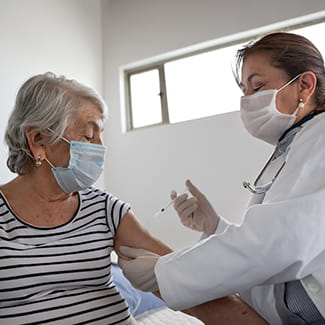 With the number of COVID-19 cases on the rise once again this year, the emergence of several variants, holiday season gatherings and the reinstatement of mask mandates– it's more important than ever to get vaccinated against both COVID-19 and influenza (the flu).
As part of National Influenza Vaccination Week, Denver Health is joining the Centers for Disease Control and Prevention to renew the call for everyone over the age of six months to get vaccinated against flu and everyone who is five years old and older to get vaccinated against COVID-19.
Together, we can help limit the spread of both infectious diseases and limit the possibility of a twindemic.
What is a Twindemic?
Denver Health's providers are concerned they will need to prepare for what some are calling a "twindemic,"or a peak in the number of flu cases and COVID-19 cases at the same time.
"It's expected during the fall and winter that we see a lot of respiratory viruses circulating, so it's very likely that we could see both influenza and COVID-19 circulating at the same time," said Denver Health Chief Medical Officer and Infectious Disease expert Connie Price, MD. "And as people go indoors and they return back to school, that is more risk for spread and exposure. So a twindemic could happen."
What to Do
Get vaccinated. The CDC recommends an influenza vaccine for all individuals who are more than six months of age and a COVID-19 vaccine for everyone age five and up. Dr. Price recommends, "Everyone should be fully vaccinated against COVID and influenza this year."

Maintain clean hands. Follow these five steps from the CDC every time:

Wet your hands with clean, running water (warm or cold), turn off the tap, and apply soap.

Lather your hands by rubbing them together with the soap. Lather the backs of your hands, between your fingers, and under your nails.

Scrub your hands for at least 20 seconds. Need a timer? Hum the "Happy Birthday" song from beginning to end twice.

Rinse your hands well under clean, running water.

Dry your hands using a clean towel or air dry them.

If soap and water are not available, use an alcohol-based hand sanitizer that contains at least 60 percent alcohol.

Stay home when you are ill. Influenza is most contagious when symptoms begin. Stay home from work and other public areas until you have had no fever for at least 24 hours in the absence of fever-reducing medications.
What is in the Vaccines?
The vaccines contain components that mimic the flu and COVID-19 viruses but do not get you sick with it.
"If you get a vaccine, then when you encounter the real virus, your body is ready to produce an immune response or a defense against that virus to help you clear it," said Dr. Price.
Is the Flu Shot Safe?
Dr. Price said the flu vaccine has been around for a long time and is proven to be safe and the most effective means of stopping the flu virus. She assures all patients that it is always safe to get both your COVID-19 vaccine, whether your initial series or booster, along with your flu shot. You can even get them at the same time, just in different arms!
*Please note: Visitors are not allowed to enter any Denver Health location if they have any COVID-19 symptoms and patients must notify a Denver Health staff member if they have any COVID-19 symptoms.
Flu Shot Side Effects
Any side effects caused by the flu vaccines are generally mild and will go away on their own within a few days. According to the CDC, common side effects include:
Soreness, redness and/or swelling

Headache

Fever

Nausea

Muscle aches
Severe allergic reactions after a flu shot are uncommon, but if you experience difficulty breathing, hoarseness or wheezing, swelling around the eyes or lips, hives, paleness, weakness, dizziness or a fast heartbeat, call your doctor immediately. If it is an emergency that you think cannot wait, call 911 immediately.
When is the Flu Season?
According to the CDC, flu season in the United States is during the Fall and Winter months. While influenza viruses circulate year-round, most of the flu activity peaks between December and February, but activity can last as late as May.
Where Can I Get a Flu Shot at Denver Health?
Denver Health offers the flu shot at all 10 of our Community Health Centers around the city, as well as at our Public Health Institute's Immunization Clinic. This year, appointments are required to get a flu shot at both the Health Centers and at the Immunization Clinic to prevent large crowds from gathering in the clinics and help stop further spread of COVID-19.
To make an appointment to get your flu shot, call 303-436-4949, use the free MyChart app, or make an appointment through the Public Health Institute's Immunization Clinic.