Denver Health staff and community partners tour Mobile Health Centers
March 29, 2023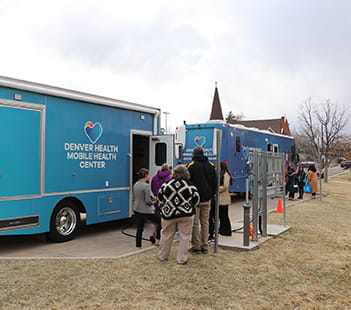 Denver Health showcased its three Mobile Health Centers last week at an open house attended by staff, board members and dozens of community partners.
The Mobile Health Centers provide access to high-quality health care by bringing it right to Denver neighborhoods. Each mobile unit specializes in an area of care, including cancer screening, primary care and vaccinations. These centers are here to support our community's health and can refer patients to other Denver Health services if needed.
On March 23, community partners were able to interact with the teams, tour the units and learn more about the mobile health centers and how their partnerships are making a positive impact. Those partners were then asked to provide feedback on how the mobile units can improve and how they could reach more people in the community. The Mobile Health Centers are empowering the community with knowledge and awareness for access to support and care to take care of Denver's residents.
Feedback and ideas came alive during the open house. The Mobile Health Centers community partners proposed ideas for growth in care and education.
A community promotora said, "I feel safe and confident when I call the mobile health line. Your staff is always so friendly and welcoming."
Another community member highlighted their surprise and gratitude for the way that they were treated by our teams, saying, "I cannot tell you how thankful we are. Our patients are being treated with respect, and breaking down the distrust of healthcare after the Mobile Units visits. I love to see our community members come out of an appointment smiling. I didn't expect that type of reaction."
Visit the Mobile Health Centers website to learn more about our services or to take a virtual tour of a mobile unit. For anyone interested in requesting information to become a community partner, a form can be filled out at the bottom of the page.