Tips for injury prevention during National Trauma Awareness Month of May
May 17, 2023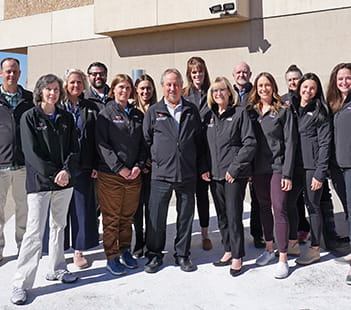 Unintentional injury remains the leading cause of death for children and adults up to age 45. According to the Centers for Disease Control and Prevention, more than 220,000 people die each year due to unintentional injury. Injuries can lead to long-lasting effects such as disability, mental health disorders and financial issues.
The Ernest E. Moore Shock Trauma Center at Denver Health is one of the world's leading trauma centers and has one of the highest survival rates in the country. In addition to its robust Adult Level One Trauma Center, Denver Health is also an American College of Surgeons verified Level Two Pediatric Trauma Center. Our regional Trauma Center, which manages trauma cases in Colorado and six neighboring states, receives and cares for patients with any type of traumatic injury. In 2022, Denver Health's trauma team treated over 3,000 adult and pediatric patients. Denver Health's trauma program and surgical team have a 98% survival rate for the worst types of injuries, but the goal of Trauma Awareness Month is to reduce those injuries in the first place.
Most injuries are preventable. Choosing to be aware of your environment, as well as staying informed on the latest safety facts, is a great place to start. Following the rules of the road, safe-play and wearing appropriate safety gear are all essential in reducing preventable injuries. Prevention is the best form of trauma care!
Ten injury prevention tips:
Always remain aware of your surroundings: Notice your environment, the people around you and take note of exits.
Fall precaution: Falls are the leading cause of injury-related deaths for ages 65+. Make sure walking paths are clear of clutter, minimalize tripping hazards (carpets, rugs), turn on lights, and make sure handrails are not loose.
Don't text and drive: 1 out of 4 motor vehicle crashes in the U.S. are caused by texting and driving. You are 23 times more likely to be involved in a motor vehicle crash if you text and drive.
Wear a seat belt: Those not wearing seat belts are 30 times more likely to be ejected from a vehicle during a crash. Seat belts reduce the risks of death by 45% and serious injury by 50%.
Child vehicle safety: Motor vehicle injuries are a leading cause of death among children. Buckling children in age- and size-appropriate car seats, booster seats and seat belts reduces serious and fatal injuries by up to 80%. For more information on Denver Health Trauma and Injury Prevention Car Seat Program, email

injuryprevention@dhha.org

or to find a technician for a car seat inspection visit:

https://cert.safekids.org/find-tech

.

Wear a helmet: Helmets when bike riding reduce the risks of head injury by at least 45%, brain injury by 33%, facial injury by 27% and fatal injury by 29%.
Intimate partner violence prevention: 1 in 5 women and 1 in 7 men report having experienced severe physical violence from an intimate partner in their lifetime.
Fire safety: Ensure home smoke alarms are working. A working home smoke alarm decreases the risk of dying in a fire by 50%.
Suicide prevention: Suicide is the 10th leading cause of death in the U.S., with approximately one death every 11 minutes in 2019, or 47,500 persons. For 24/7 help, dial 988 to reach the Suicide & Crisis Lifeline.

Firearm violence prevention: 39,740 firearm-related deaths occurred in the U.S. in 2018; approximately 109 people died from a firearm per day. Treat every gun as if it is loaded. For more information, visit

Firearm Violence Prevention |Violence Prevention|Injury Center (CDC)
For more information about Denver Health Trauma visit https://www.denverhealth.org/services/trauma
From 11 a.m. – 1 p.m. May 22 – 26, members of Denver Health's Level One Trauma Team will be outside the Good Day Café in Pavilion A to provide information and resources highlighting the Trauma Program and work done in the Denver community.