Rocky Mountain Regional Level I Trauma Center
Denver Health's Level I Trauma Center has one of the highest survival rates in the country – and our skilled and specialized physicians and surgeons in acute shock trauma are internationally recognized leaders in the field and some of the top trauma surgeons in the world. Patient survival, academic excellence and leadership, and comprehensive care from injury through recovery – make Denver Health Medical center THE premier shock trauma center with the best reputation and the highly skilled team to handle any trauma injury.
Denver Health has provided the most advanced medical care available since its opening in 1860, and our trauma hospital is the leading pioneer in the relatively young field of trauma medicine.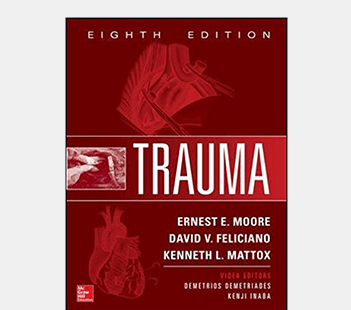 Denver Health physician Dr. Ernest "Gene" Moore and colleagues literally "wrote the book" on trauma and acute care surgery (see sidebar), providing research and education that other trauma centers nationally and internationally use for training new surgeons and other members of the trauma team.

As one of nation's first academic Level I trauma centers – with a stellar reputation nationally and in the Denver community – Denver Health is at the forefront of trauma research, publishing academic research that helps set the standards of care.
The Best Care in the Nation for Patients
Denver Health's internationally renowned trauma faculty lecture in Colorado, nationwide and across the globe. Our research laboratory brings together big data and massive computing for predictive medicine. For our patients, this means they have the best outcomes after traumatic injury. Our exceptional survival rates set national standards and as importantly or maybe more so.
Leading Survival Rates Nationwide
97.8 percent survival rate for blunt injuries

95.7 percent for penetrating injuries

97.4 percent overall average survival rate
Traumatic injury comes in many forms: Motor vehicle crashes (car wrecks), falls, violent crime, self-inflicted injuries, assaults, and other unanticipated, sudden often catastrophic events. All require immediate, expert care and management. At Denver Health's Rocky Mountain Regional Level I Trauma Center, you have access to immediate care from our team of trauma experts. And as the region's premier academic Level I adult and Level II pediatric trauma center, when a traumatic event happens, families stay together.
We are the premier academic Level I Trauma Center in the region, the only Level I trauma center in the city of Denver (pediatric trauma), treat some 16,000 patients annually, admit over 2,700 trauma patients annually and receive transfers from more than 60 regional hospitals.
Our Services
Denver Health's Level I Trauma Center is a 24-hour, comprehensive, trauma institute led by trauma and acute care surgeons, and consisting of leading expert physicians in orthopedic surgery, neurosurgery, anesthesiology, emergency medicine, radiology, internal medicine, plastic surgery, oral and maxillofacial surgery, pediatric surgery and critical care.
Trauma surgeons

– Responsible for the initial evaluation, resuscitation and overall care and management of the acutely injured patient. Trauma surgeons identify and manage all life and limb-threatening injuries in conjunction with other sub-specialties. They operate on all injuries to internal organs of the chest and abdomen.

Oral and maxillofacial surgeons

– Evaluate and manage acute injuries to facial and jaw bones.

Neurosurgeons

– Evaluate and manage acute traumatic brain, spine and spinal cord injuries from life-threatening bleeding and fractures to minor concussions, in addition to elective specialty practice including disorders of the neck and back, and brain tumors.

Ophthalmic surgeons

– Evaluate manage trauma to the eye, including globe rupture, retinal detachment and perforating injury.

Orthopedic trauma surgeon

s – Acute bony fractures are expertly managed by an internationally renowned team of orthopedic surgeons. The team includes surgeons with additional fellowship training in orthopedic trauma and sports medicine.

Plastic and reconstructive surgeons

– Treat facial, ear and hand injuries, head and neck reconstruction, oculoplastic surgery and hand replantation.

Hand and limb microvascular replantation surgeons

– Treat patients with the most severe hand injuries, including replantation of traumatic amputations, soft tissue reconstructions and vascular repair.

Vascular surgeons

– Treat aortic aneurysms and major artery and vein injuries. Many of these injuries can be treated endovascular minimally invasive methods

Urologic surgery

– Treat all areas of urologic trauma, including kidney, bladder and genital injury.