Denver Health's Level One Trauma Center is one of the world's leading trauma centers and has one of the highest survival rates in the country. Since its opening in 1860, when our first trauma patient arrived by horse after a gun shot duel, Denver Health has established itself as a pioneer in trauma care. Our skilled and specialized trauma surgeons are internationally recognized leaders in the field and authored the book on caring for the traumatically injured patient. As a Level One Adult and Level Two Pediatric Trauma Center, Denver Health is the only all-encompassing Trauma Center in the region, uniquely allowing us to provide the highest quality of trauma care to each family member throughout the age spectrum. When tragedy happens, families are kept together.
We are the only Level One Trauma Center in the city of Denver treating over 20,000 patients annually, admitting more than 3,000 trauma patients annually and receiving transfers from more than 82 regional hospitals.
Level One Adult and Level Two Pediatric Trauma Center:
Denver Health was the first Trauma Center in Colorado and has continued that legacy of providing the highest quality trauma care to the most severely injured patients by recently re-verifying as an American College of Surgeons and State of Colorado Level One Designated Trauma Center.
Denver Health is also proud to be an American College of Surgeons and State of Colorado verified Level Two Pediatric Center. This is unique to the Colorado region and allows us to provide the highest trauma care to all.
Leading Survival Rates
97.1 percent survival rate for blunt injuries
97 percent for penetrating injuries
98 percent overall average survival
Our Health Mission
Our highly experienced trauma team provides evidence-based, patient-centered care leading to some of the best outcomes in the country. We have a proud tradition of providing high quality, cutting-edge care and are leads in trauma surgery innovation.
Experience and Professionalism
Years of experience allows our trauma surgical team to create a custom recovery plan designed for our patients. We strive to educate based upon our vast trauma experience in the management of traumatic injuries, through management guidelines, educational conferences, and a vast selection of lectures from the Denver Health Trauma Lecture Series.
Physicians Who Care
Not only are our trauma surgeons at Denver Health available 24/7 to discuss management, our Trauma Services Department can be an invaluable resource in the overall management of your trauma program. We strive to provide the optimal care for all injured patients with the goal of improving the quality of life in every injured person.
Our Services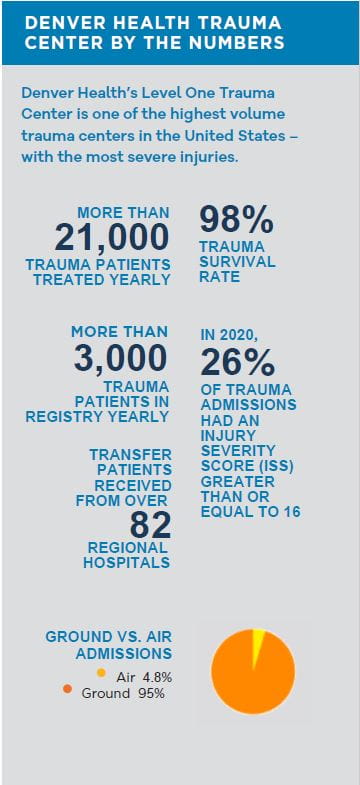 Denver Health's trauma surgeons collaborate and consult with leading experts providing comprehensive trauma care in the following services:
Research
The Denver Health Trauma Center faculty has a prolific record in research, having published much of the seminal literature in trauma. We are heavily funded by the National Institutes of Health and Department of Defense, and recently received a $90 million U.S. Department of Defense contract to develop cutting-edge care for the injured patient. In 2019 alone, our surgeons gave over 175 presentations and published more than 130 articles in peer-reviewed medical journals.
Trauma Education
Denver Health's Level One Trauma Center is committed to providing trauma education to trauma centers, hospitals, physicians and pre-hospital agencies throughout the Rocky Mountain region. Our physicians and nurses lecture nationally and internationally and have contributed to much of the literature on care of the severely injured and shocked patient. We travel to outlying hospitals to teach, train and educate healthcare providers and maintain a library of lectures online, accessible to rural health care partners. The Denver Health Trauma Lecture Series is held at Denver Health monthly for internal education and broadcasted via Webex. For additional information click HERE.
Our trauma experts and nursing staff provide additional training by request. Please contact Trauma Services at trauma@dhha.org for any requests or inquiries.
Denver Health Trauma Surgeons "Wrote the Book"
Denver Health trauma surgeon Dr. Ernest 'Gene' Moore is co-author and editor of Trauma. Now in its 8th edition, the textbook is the leading reference for care of the trauma patient.
Visit Us: