Ernest E. Moore Shock Trauma Center
Denver Health's Level 1 Trauma Center is one of the world's leading trauma centers and has one of the highest survival rates in the country. Our skilled and specialized trauma surgeons are internationally recognized leaders in the field and quite literally wrote the book on the care of the injured patient. Patient survival, academic excellence and leadership, and comprehensive care from injury through recovery make Denver Health the leading trauma center in Colorado and the region. Known as one of the best trauma centers in the US, we manage trauma cases in Colorado and six neighboring states and care for patients with any type of traumatic injury.
Denver Health has a long history of providing the most advanced trauma care available. Since its opening in 1860 (our first trauma patient arrived by horse after a gunshot wound from a duel), the trauma center has remained a pioneer in trauma care. As the first trauma center in Colorado, Denver Health was just re-verified and designated as a Level 1 Trauma Center by the American College of Surgeons and the State of Colorado, continuing a long legacy of providing care for the most severely injured.
We are the only Level 1 Trauma Center in the city of Denver treating some 18,000 patients annually, admitting more than 2,700 trauma patients annually and receiving transfers from more than 60 regional hospitals.
Our Services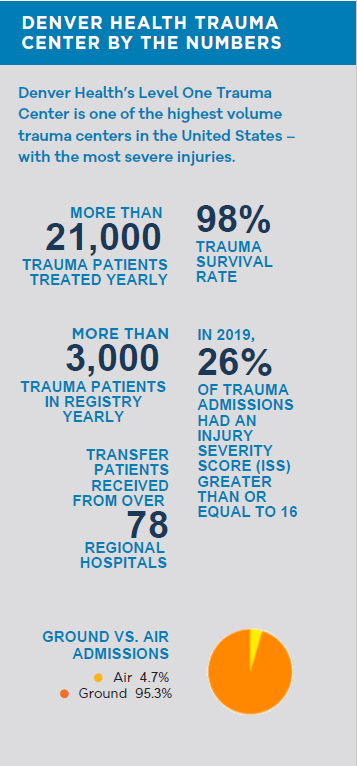 Denver Health's Level 1 Trauma Center (also known as the Rocky Mountain Regional Trauma Center) is a 24-hour, comprehensive, trauma institute led by trauma surgeons and acute care surgeons, and consisting of leading expert physicians in orthopedic surgery, neurosurgery, anesthesiology, emergency medicine, radiology, internal medicine, plastic surgery, oral and maxillofacial surgery, pediatric surgery and critical care.
Trauma surgeons – Responsible for the initial evaluation, resuscitation and overall care and management of the acutely injured patient. Trauma surgeons identify and manage all life and limb-threatening injuries in conjunction with other sub-specialties. They operate on all injuries to internal organs of the chest and abdomen.
Oral and maxillofacial surgeons – Evaluate and manage acute injuries to facial and jaw bones.
Neurosurgeons – Evaluate and manage acute traumatic brain, spine and spinal cord injuries from life-threatening bleeding and fractures to minor concussions, in addition to elective specialty practice including disorders of the neck and back, and brain tumors.
Ophthalmic surgeons – Evaluate manage trauma to the eye, including globe rupture, retinal detachment and perforating injury.
Orthopedic trauma surgeons – Acute bony fractures are expertly managed by an internationally renowned team of orthopedic surgeons. The team includes surgeons with additional fellowship training in orthopedic trauma and sports medicine.
Plastic and reconstructive surgeons – Treat facial, ear and hand injuries, head and neck reconstruction, oculoplastic surgery and hand replantation.
Hand and limb microvascular replantation surgeons – Treat patients with the most severe hand injuries, including replantation of traumatic amputations, soft tissue reconstructions and vascular repair.
Vascular surgeons – Treat major vascular injuries and assist in the care of the actively hemorrhaging patient. Vascular surgeons can frequently manage these patients with minimally invasive methods by applying endovascular techniques.
Urologic surgery – Treat all areas of urologic trauma, including kidney, bladder and genital injury.
Leading Survival Rates
97.1 percent survival rate for blunt injuries
97 percent for penetrating injuries
98 percent overall average survival rate
Research
The Denver Health trauma center faculty has a prolific record in research, having published much of the seminal literature in trauma. We are heavily funded by the National Institutes of Health (NIH) and United States Department of Defense (DoD), and recently received a $90 million U.S. Department of Defense contract to develop cutting-edge care for the injured patient. In 2019 alone, the Department of Surgery received funding for research from 14 different awards and surgeons within the department published a total of 131 periodicals.
Denver Health Trauma Surgeons "Wrote the Book"
Denver Health trauma surgeon Dr. Ernest 'Gene' Moore is co-author and editor of Trauma. Now in its 9th edition, the textbook is the leading reference for care of the trauma patient.
Trauma Education
Denver Health's Level 1 Trauma Center is committed to providing trauma education to trauma centers, hospitals, physicians and pre-hospital agencies throughout Colorado and the Rocky Mountain region. Our physicians and nurses lecture nationally and internationally and have contributed to much of the literature on care of the severely injured and shocked patient. We travel to outlying hospitals to teach, train and educate healthcare providers and maintain a library of lectures online, accessible to rural health care partners. The Denver Health Trauma Lecture Series is held at Denver Health monthly for internal education and broadcasted via Webex. Anyone can access Denver Health's continuing education (CME, CNE, CE). Our trauma experts and nursing staff provide training by request. Contact our Trauma Education Coordinator to partner with Denver Health for education or training.