August 2016
August 9th, Denver, CO – On a sizzling summer day at Wash Park, the Denver Health Hospitalist group gathered for a croquet party. Lena Burden offered tea/apple juice to all who arrived from her tea playset. The refreshments included tea sandwiches, petit fours, and myriad pastries. The fine players of Jiminy Wickets gave all who attended a tailored lesson in the rules of croquet. Once the basic concepts had been taught, the games began.
Sansrita Nepal and her husband took on Chi Zheng and his wife for a spirited 1st round. Kristin Dalton and Margherita Mascolo won their first round against Mark Reid, only to have Mark come back with a vengeance in the 2nd round – sparking rumors that he may be a true croquet professional, who was hiding his skills. The APP's were represented by Lucy Pillion and Janice Van Bockern, but suffered a 6-1 loss to Alisha Skinner and her husband – showing true sportsmanship, they stated that they enjoyed the new challenge! The Team Burden (Marisha, Mark, Lena and Luke) relished the family time, even if some of their "younger" players kept running off the field. These are just a few of the fun highlights from that fun afternoon. As the sun started to set, the croquet mallets were put aside for another day.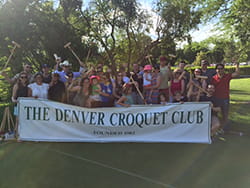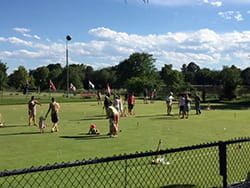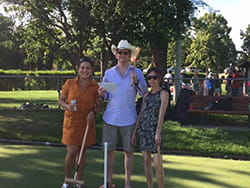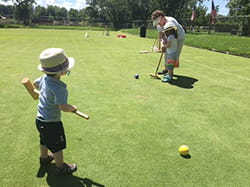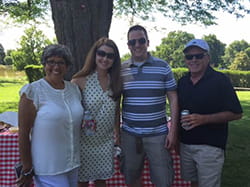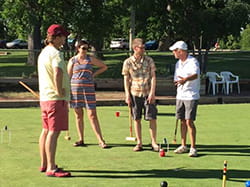 May 2016
Shannon Radak, NP was nominated for the 2016 Clinical Nurse Partner of the Year Award.
Sarah Cope, NP was nominated for the 2016 Advanced Practice Nurse of the Year Award.
Sarah Stella, MD was selected to serve on Team Hospitalist, a volunteer editorial advisory group for The Hospitalist, which is the Society of Hospital Medicine's official news magazine.
ACP Hospitalist interviewed Marisha Burden, MD for her work on gender differences in leadership and scholarly work in hospital medicine. The article will soon be available on the ACP Hospitalist website. She was also recently invited to be a webinar discussion leader for ACP's new Certificate in Physician Leadership in Hospital Medicine.
Dr.'s Sansrita Nepal, Gaby Frank, Itziar Quinzanos, Sarah Stella, Kim Indovina, and Marisha Burden received funding from the Denver Health Foundation and Department of Medicine Small Grants to start their qualitative analysis of what do patients want and need in the hospital setting. The first few interviews have yielded very interesting and unexpected findings that will help us better understand and care for our patients.
Dr.'s Jeff Zoucha, Marisha Echaniz, Sarah Stella, Nick Scaletta, and Marisha Burden just closed out their study of "barriers to discharge". This was a 5-site study in collaboration with Presbyterian St. Lukes, University of California Los Angeles, University of Southern California, and University of Washington Harborview. The data from this initiative will help us better understand the barriers to early discharge and will lead to actionable data to expedite our patients getting home!
In partnership with the Society of Hospital Medicine Research Committee, a grant was submitted to PCORI for research agenda setting in hospital medicine. There are representatives from Denver Health (Marisha Burden, MD and Michelle Archuletta, PhD), University of Texas San Antonio, University of California San Francisco, University of Michigan, Johns Hopkins Bayview, Washington University in St Louis, and HealthEast Care System. Our site Principal Investigators each teamed up with a patient partner. We have also partnered with multiple key stakeholder organizations to have representation for this initiative.
The Division of Hospital Medicine in partnership with Jason Stein (1Unit) and the Colorado Health Foundation will be hosting an ACU training day here at Denver Health in just a few weeks. This work will help formalize interdisciplinary rounding at the bedside and help drive outcomes such as patient experience and quality metrics. We are excited for this partnership!
Publications from May. Congrats to Susan Calcaterra and Anne Drabkin!

Frank JW, Levy C, Matlock DD, Calcaterra SL, Mueller SR, Koester S, Binswanger IA. Patients' Perspectives on Tapering of Chronic Opioid Therapy: A Qualitative Study. Pain Med. 2016 May 20. pii: pnw078.
Calcaterra SL, Drabkin AD, Leslie SE, Doyle R, Koester S, Frank JW, Reich JA, Binswanger IA. The hospitalist perspective on opioid prescribing: A qualitative analysis. J Hosp Med. 2016 May 9. doi: 10.1002/jhm.2602.
Frank JW, Levy C, Calcaterra SL, Hoppe JA, Binswanger IA. Naloxone Administration in US Emergency Departments, 2000-2011. J Med Toxicol. 2016 Jun;12(2):148-56. doi: 10.1007/s13181-015-0525-5.
Calcaterra SL, Yamashita TE, Min SJ, Keniston A, Frank JW, Binswanger IA. Opioid Prescribing at Hospital Discharge Contributes to Chronic Opioid Use. J Gen Intern Med. 2016 May;31(5):478-85. doi: 10.1007/s11606-015-3539-4.