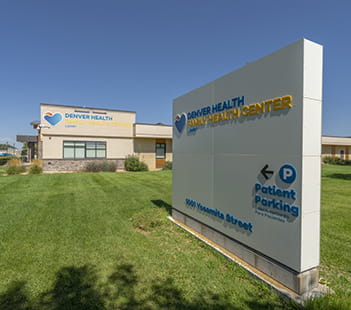 Lowry Family Health Center
Lowry Family Health Center
1001 Yosemite St.
Denver, CO 80230
303-436-4949
303-602-4545
1-866-347-3345
303-602-4550

Maps & Directions
Office Hours
Clinic Hours
Monday–Friday 7:30 a.m. to 6:30 p.m.
Lab Hours
Monday–Friday 7:30 a.m. to 6:00 p.m.
Pharmacy Hours
Monday–Friday 8 a.m. to 6:30 p.m.

Laboratory Hours
Monday–Friday 7:30 a.m. to 6:30 p.m.
Dental Hours
Monday–Friday 7:00 a.m. to 6:00 p.m.
Holiday Hours
Lowry clinic is a full-service health center located in the old Lowry Air Force Base neighborhood, conveniently located near RTD Bus Routes 6 and 10, also serving the adjacent Denver neighborhoods of Montclair and East Colfax. Our care team, which was first established in 1996, includes family care specialists, resident doctors, pediatricians, a dentist, a Russian-speaking internist, psychologists and a wide variety of support staff — working with patients to help manage their health, to promote an ongoing healthy lifestyle.
The center is certified as a Patient-Centered Medical Home, which means our team makes sure patients are actively guided through their care. Lowry clinic has been nationally recognized for training family physicians from the University of Colorado Family Medicine Residency Program. Our diverse patient population comes from all over the world and speaks more than 50 languages. We also provide medical screenings for newly-arriving refugees resettling in Denver County through the Denver Health Refugee Clinic (DHRC).
Lowry Location Services
Primary care clinic — adult and pediatric
Women's health clinic — gynecology and pregnancy (obstetrics), staffed by family medicine providers
Mental health — including psychiatrists, psychologists, certified addictions counselor and licensed clinical social workers
Green card and immigration physicals by civil surgeons
Dental clinic — adult and pediatric
Enrollment specialists for health insurance
Title X family planning — including vasectomy and birth control
Full-service pharmacy
Patient care navigation
Laboratory
Social Work
Podiatry
Sports medicine
LGBTQ+ Health
Suboxone clinic
HIV care
Language interpretation services and on-site certified Nepali, Amharic, Arabic, French, Swahili and Burmese interpreters
Extended hours
Free parking
Patient Health and Wellness Data
Lowry Awards
National Committee for Quality Assurance (NCQA) PCMH
Joint Commission PCMH
Joint Commission Accreditation
Peak Award recognized
Baldridge Award recognized
Shingo Award (Bronze)