Get to Know Denver Health Employee Renee Grant Aguinaldo
October 05, 2018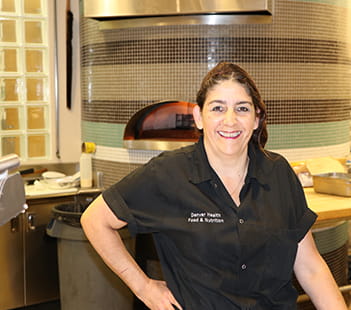 Her Pizza Kicks Butt and She Can, Too
You might be surprised to hear that one of Denver Health's best-kept secrets is its "Little Italy." You'll find "Renee's Little Italy" in the hospital's Good Day Café.
"I'm known for the pizzas, calzones, stromboli and garlic knots," Denver Health cook Renee Grant-Aguinaldo said with faux Italian accent. She has been baking up tasty, healthy meals at Denver Health for the past 16 years.
"People really don't realize how healthy pizza is for a person," Grant-Aguinaldo said with a smile. Her food is so popular that a couple of her regular customers made a hand-painted sign a few months ago that said "Renee's Little Italy." The name has stuck and that sign now sits above her pizza station in the Good Day Café, right as you walk in the door.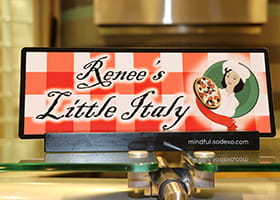 But baking pizzas isn't her only skill. Grant-Aguinaldo is also a third-degree brown belt in the ancient Chinese martial art of kung fu. She and her late husband used to teach others self defense. It's a skill she doesn't like to use, but is glad to have, because of her small stature.
"Sometimes I don't like people to know that I know [kung fu], because the more you tell people, the more they challenge you," Grant Aguinaldo said.
"[They'll say], you're so little, you're tiny and then I always tell people, 'Isn't Bruce Lee a small man?' "
This pastry whiz and ready-for-anything fighter is actually a triple threat – she is also a loving mother and grandmother. "I have three kids – two boys and one girl – one of my sons had served for almost 10 years in the Navy. I'm proud of all my kids." Grant-Aguinaldo also has eight grandchildren – five grandsons and three granddaughters.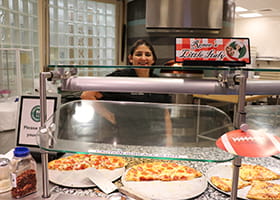 Family is more important than anything in her life. She said, "love life and love your family, because family is everything. If you learn to love one another and get along with one another, that helps your life go smoother."
This 55-year-old doesn't look old enough to be a grandmother. When asked what keeps her looking so young, she said, "Martial arts keeps you healthy and keeps you happy. I think that's why I do well at Denver Health, because I'm a relatively happy person."
Grant-Aguinaldo loves making her customers (patients, employees and visitors) happy by serving them a comfort food that they love. She often makes suggestions about new menu items to add and says whenever one makes it onto the menu, it makes her feel really good.
Her favorite pizza is a guilty pleasure – the ultimate supreme, which contains Italian sausage, pepperoni, ham, green peppers, onions, olives and mushrooms.
From October 7-13, Denver Health is celebrating Grant-Aguinaldo and all of our food service workers as part of National Healthcare Food Service Week.
We asked Grant-Aguinaldo why her work is important to her.
"People need to be more aware of what we're eating, how to eat healthier and how we're eating – less portions, don't overeat," she said. "Keeping yourself healthier makes you live longer, and makes us all happier, too. The healthier we are, the longer we live and you look better when you eat healthier!"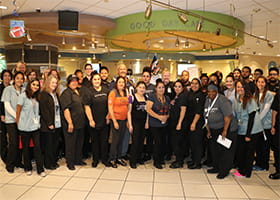 So, if you haven't visited Renee's Little Italy for a slice yet, be sure to make it happen soon and don't miss her desserts – she takes special pride in her cinnamon rolls and apple turnovers.
The food services team at Denver Health employs more than 120 people, including chefs, cashiers, registered dietitians and technicians, sanitation and diet clerks. They serve Denver Health patients through At Your Request Room Service, along with guests, visitors an employees at the Good Day Café. They also provide catering services across the entire Denver Health campus and provide three meals a day at the Denver Cares Detox Facility.