Army Mental Health Specialists Train to Treat Soldiers at Denver Health
November 12, 2018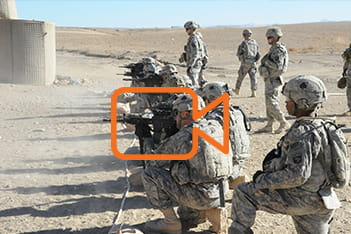 Denver Health is collaborating with the U.S. Army to train the next generation of
Army Mental Health Specialists
– mental health professionals who serve a variety of roles, treating their fellow soldiers for both inpatient and outpatient mental health. Denver Health Psychiatrist
Christian Thurstone, M.D.
– who is also Lieutenant Colonel Christian Thurstone in the Army Reserve – along with Medical Director of
Psychiatric Emergency Services
Scott Simpson, M.D., M.P.H.
, developed an ongoing rotation where six enlisted Army Mental Health Specialists train at Denver Health at a time.
The specialists work in Denver Health's
Psychiatric Emergency Services
, the only unit of its kind in Colorado that is staffed 24 hours a day, seven days a week, with board-certified psychiatrists, behavioral health technicians, nurses, physician assistants and social workers. The 18-bed unit is dedicated to treating patients who have psychiatric emergencies, including suicide, anxiety, depression and substance abuse. It treats about 6,000 patients a year.
This past rotation, the Army Specialists each worked with about 26 patients, learning valuable skills they can take back to their military work.
"The most common casualty in the Army is a psychiatric casualty," said Dr. Thurstone. "That can include managing stress related to combat, being overseas, separated from their families, problems with authority,
depression
,
anxiety
and post-traumatic stress disorder. As a mental health professional in the Army Reserve, we do what we can to help people keep it together and keep functioning."
Dr. Thurstone and Dr. Simpson put together an evaluation of the unique training program at Denver Health that is set to be published in the peer review journal Military Medicine.
"We can train the next generation of providers and, in turn, they come to Denver Health, and our patients get an opportunity to work with really skilled and committed clinicians," said Dr. Simpson. "Everyone wins, and this is the kind of thing you can only find at Denver Health.
"Soldiers are so grateful to have a mental health resource because mental health resources are so scarce in the military," said Dr. Thurstone.