Denver Health is a Recognized Leader in Midwife Care
January 04, 2019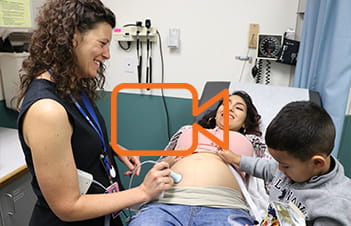 Denver Health is proud to continue its long tradition as a recognized leader for midwife-assisted births.

Denver Health delivers one-third of all babies born in Denver and has 33 Certified Nurse Midwives on staff, with a midwife available 24 hours a day, seven days a week to help care for mothers giving birth. Certified Nurse Midwife Amanda Strauss said, "I don't know of another hospital in this country that has this many midwives."

The midwives at Denver Health deliver more than 1,000 babies per year and are proud to report that our mothers have some of the lowest C-section rates in Colorado, at around 10 percent. (National C-section rates are around 30 percent.)

Expectant mothers who use a midwife at Denver Health choose the care they want.

Charlotte Olsen delivered a baby boy at Denver Health in 2014 and a baby girl at Denver Health in 2016. "Having the birth ... that I wanted to have and being encouraged to do that by the Denver Health midwives was really rewarding," she said.

Quna Shanay Jones used aromatherapy after she gave birth to her baby boy in 2016. She called Denver Health a second home and praised the staff for making her family members feel more comfortable during her birthing experience, giving them places to sleep inside her over-sized hospital room. "I ordered pizza while I was in labor," Jones said. "They make you feel as comfortable as you can." Jones is planning to have her second baby boy at Denver Health in 2019.

"With natural childbirth, you really need support," midwife Strauss said. "The evidence shows that if there's just someone sitting in the room, you're more likely to have a better birth outcome than if you're sitting there by yourself."

Midwives don't just take care of women before and during childbirth -- the relationship with the patient's midwife continues after the baby is born. Certified Nurse Midwives receive a master's degree in women's health, which includes special training on how to care for moms and babies.

Denver Health's midwife program started in 2005. It has grown to five clinic locations across Denver: Pavilion C on Denver Health's main campus, the Bernard F. Gipson Eastside Family Health Center, the Sam Sandos Westside Family Health Center, the Level One Physicians Clinic at the Wellington E. Webb Center for Primary Care and the Federico F. Peña Southwest Family Health Center.

To make an appointment with a Denver Health midwife call 303-436-4949.
Join the Denver Health Midwives for conversation, a Q&A and a tour of our hospital birthing suites on Saturday, January 19.