Denver Mayor Joins Denver Health in Final Push to Sign Up for Health Insurance
January 11, 2019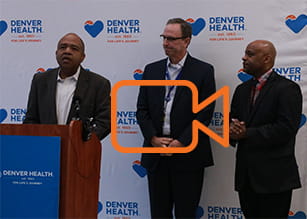 Denver Mayor
Michael B. Hancock
joined
Denver Health Medical Plan
CEO
Greg McCarthy
and
Connect for Health Colorado
CEO
Kevin Patterson
in one final push to encourage Coloradans to sign up for health insurance before the end of the open enrollment period on January 15. The trio held a news conference at Denver Health's Administration Building today to urge Coloradans they only have four days left to sign up.
The
Denver Health Medical Plan
is one of seven options available to Coloradans who want to purchase their own plan and who don't get it from their employer. They can see the options under Colorado's Health Insurance Marketplace,
Connect for Health Colorado
.
Mayor Hancock, who
receives his health care at Denver Health
, said, "Everyone deserves the right to affordable health care. This is about equal access to health care for all."
McCarthy noted that he's excited to see that
more people have signed up for health insurance under the exchange in Colorado this year
, but recognizes that there are still people who don't have insurance. "Health insurance is there for those unpredictable times and the challenges that may come up," McCarthy said. "It is also there to keep people healthy. Some plans even offer free flu shots."
Patterson said even though the deadline is coming up so soon, "it is not too late to sign up." He urged Coloradans to visit
Connect for Health's website
or call
1-855-PLANS-4-YOU
to get help signing up and see the options available. "For example, if you earn $20-23 an hour, you can get on the health exchange for around $100 a month," Patterson said.
Find out more about the options offered under the
Denver Health Medical Plan
.