Denver Mayor Joins Denver Health in Opening of Treatment on Demand Services
February 13, 2019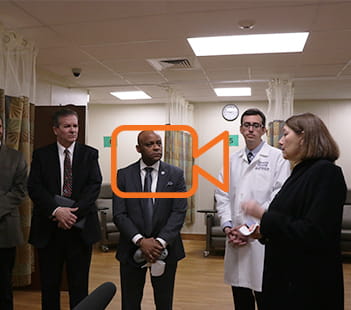 A new program for people with opioid use disorder is inducting patients into medically assisted treatment the same day they come in to Denver Health's Emergency Department (ED) and has seen "next day show" rates increase significantly.

The Treatment on Demand program, partially funded by the Denver Department of Public Health and Environment (DDPHE), is staffed by on-call licensed therapists who work with persons with opioid use disorder in the ED, and in Psychiatric Emergency Services, to encourage them to enroll in regular medically assisted treatment.

Today, Mayor Michael B. Hancock, DDPHE Executive Director Bob McDonald and Denver Health CEO Robin D. Wittenstein, Ed.D., FACHE officially launched the program.

The program is Denver's first medically assisted opioid treatment program that provides services "on demand." Under other circumstances, persons with opioid use disorder have to be referred for medical treatment in a process that can take as long as three weeks. A core function of this program is to increase access to immediate care and reduce the length of admission time at receiving outpatient clinics.

Dr. Wittenstein said, "What is unique about this program is the dedicated therapists who work here make contact with people who use opioids as soon as they come into the ED. They enroll patients in immediate treatment and then direct them toward a pathway that hopefully leads to their recovery."

A person with opioid use disorder will typically present at the ED when they are experiencing withdrawal. Denver Health has one of the few ED's in the United States that already treats these patients with a drug called buprenorphine -- that alleviates withdrawal and helps patients on the road to recovery. Under this new program, the therapists conduct a "biopsychosocial assessment" of the patients, and, if clinically appropriate, enroll them into regular buprenorphine treatment the same day.

Before discharge, patients are referred to one of three opioid treatment clinics. Patients are expected to go to the clinic every day to receive their dose of buprenorphine. They also receive psychotherapy and specialized medication management by trained physicians.

The new program has recorded next day show rates of 73 percent. Before the licensed therapists joined the ED, patients referred to opioid clinics would show up 60 percent of the time.

To access Denver Health's Treatment on Demand services call 303-436-5699. Find out more about Denver Health's opioid addiction treatment services.