Celebrating Female Leadership at Denver Health
March 08, 2019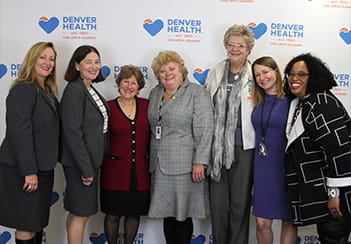 March 8 is
International Women's Day
and as we celebrate here at Denver Health, we also reflect on our long standing tradition of strong female leadership.
The theme of the 2019 campaign is "Balance for Better" and what's a better way to celebrate women than to acknowledge and recognize the great strength, energy, compassion, humor, insight, perseverance, institutional knowledge and plain hard work that all of Denver Health's women bring to work every single day?
In 2017, several of Denver Health's current and former female
leaders
posed for a photo to celebrate
Denver Health and Hospital Authority's 20th anniversary celebration
. Today, these leaders remain at the helm and make us proud.
Pictured l-r: Denver Health Chief Human Resource Officer Michelle Fournier Johnson; CEO Robin D. Wittenstein, Ed.D., FACHE; former CEO Patricia Gabow, M.D.; CFO Peg Burnette, CPA; Chief Nursing Officer Kathy Boyle, Ph.D., RN, NEA-BC; Chief Medical Officer Connie Price, M.D.; and Chief Government and Community Relations Officer Elbra Wedgeworth.
Additionally, Chief Experience Officer Amy Friedman; Chief Compliance and Audit Officer Catharine Fortney and Chief Research Officer Romana Hasnain-Wynia, MS, Ph.D., round out the powerful female presence on Denver Health's leadership team.
In addition to our leadership team's strong female presence, nearly 40 percent of
Denver Health's surgeons
are women.
Happy International Women's Day!