Helmets Save Lives on Electric Scooters
March 20, 2019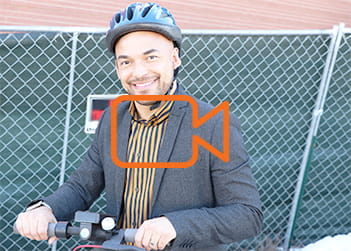 Today is the first day of Spring and as the weather gets warmer, more people will be out on the roads on electric scooters and bikes. Denver Health has treated several patients who have come in with scooter injuries – some minor, others more severe.
Rick Salinger of CBS Denver interviewed
Dr. Eric Lavonas
, one of Denver Health's
Emergency Physicians
who takes care of these patients. Currently, one of Denver Health's patients is in critical condition after suffering a traumatic brain injury from a scooter fall.
See the full CBS Denver story
.
"Scooters go about 15 miles per hour. Imagine running as fast as you can head first into a brick wall and you get some idea of what a scooter crash does to your brain," said Dr. Eric Lavonas.
The Centers for Disease Control and Prevention is now studying the reported spike in injuries related to the use of dockless electric scooters. A recent study found that 94.3 percent of electric scooter riders were not wearing helmets and that more people were injured riding e-scooters than by riding bicycles or traveling on foot. The agency is now conducting a study in Austin, Texas to find and count the number of injuries related to dockless electric scooters.
The American College of Emergency Physicians has just launched a campaign on electric scooter safety, called
Scoot Safe!
It found that the number one type of injury seen from electric scooters is a head injury.

Denver Health wants to remind everyone, with scooter crashes and accidents on the rise, please remember that helmets can save lives.