ACUTE Expands Services to Younger Patients
April 18, 2019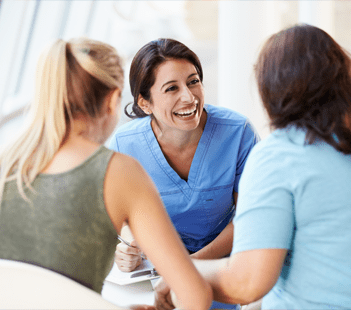 An estimated 20 million women and 5-10 million men in the U.S. suffer from eating disorders. Severe eating disorders are life-threatening and patients require specialized medical care.

The ACUTE Center for Eating Disorders at Denver Health is the only adult medical stabilization program in the country with the resources, the environment and the expertise to treat patients suffering from the extreme forms of eating disorders and start them on the road to recovery.
After a record-breaking year and a call to action from patients, families and medical professionals, ACUTE is announcing it will lower the age of patients who can be admitted to 15 years old, beginning May 1. Previously, the minimum age of admission to ACUTE was 17. With the full support of the Pediatric Department at Denver Health, this expanded service has been judiciously developed for these younger patients.

"This will enable ACUTE's well-acclaimed and long-established life-saving medical stabilization services to be available now to even more patients in need," said Dr. Philip Mehler, ACUTE's founder and executive medical director.

To continue to provide the very best care possible, ACUTE has hired two new doctors — Dr. Russell Marx and Dr. Michael Spaulding-Barclay — who will join a team of medical experts.

Dr. Marx, a psychiatrist, has been treating eating disorders for nearly 40 years. He has served on the medical faculties of Princeton University and the University of California and is a past member of the board of directors of the National Eating Disorders Association as its Chief Medical Officer.

Dr. Michael Spaulding-Barclay joins ACUTE in a part-time role as an adolescent medicine specialist. He has served as attending physician, in child and adolescent services specializing in eating disorders, since 2004. He just completed a term as co-chair of the Academy of Eating Disorders Medical Standards Committee.

At the same time, the Child Life team at Denver Health will now provide resources to ACUTE, adding to the one-on-one individualized treatment team by seeing patients age 19 and below. This team helps patients and families adjust to and cope with being in a hospital setting, helping them deal with stress, changes and challenges and providing normalcy in a clinical setting. They will help them get through their hospital stay and start them on their road to recovery by bringing activities, coping strategies and learning resources to the ACUTE unit.

ACUTE has treated close to 1,800 patients since 2004. ACUTE was recognized as the first-ever Medical Center of Excellence for Eating Disorders by Anthem, Inc. last year.

To learn more about the ACUTE Center for Eating Disorders by Denver Health, please visit denverhealth.org/ACUTE or call 1-877-ACUTE-4-U.