Trauma Awareness Month
May 13, 2019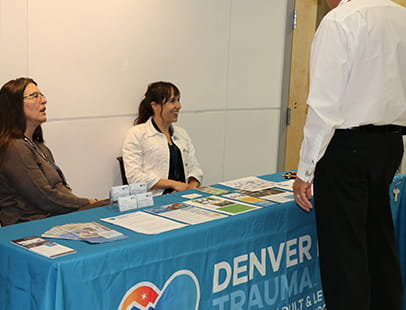 "I believe that violence in the community is the most important issue impacting society because it doesn't just affect gang members; it affects everyone in the community as a bullet has no home."
-Denver Youth Health Assessment, 2017
May is National Trauma Awareness Month and this year's theme is "Firearm Injury Prevention: Everyday, Everyone, Everywhere."
The
Level One Trauma Team
at Denver Health treats more than 18,000 trauma patients annually, including 72 percent of the non-fatal firearm injuries in Denver. These injuries have been on the rise since 2015. Denver Health's Level One Trauma Team has a 98 percent average survival rate for the worst types of injuries, but the goal of Trauma Awareness Month is to reduce those injuries in the first place.
Join Denver Health as we recognize the Level One Trauma Team's efforts in preventing firearm injuries. Both Denver Health and
Denver Public Health
are active in analyzing firearm injuries and data in the Denver community. In August of 2017, Denver Public Health released "
The Epidemiology of Firearm Injuries in Denver
" and is currently working to finalize the "Youth Gun Violence Report."
Denver Health has a
Violence Prevention Committee
, co-chaired by Denver Health Trauma Surgeon Dr. Jamie Coleman and Denver Health Injury Prevention Coordinator Darcie Bentz, with a goal to address the most pressing issues of violence seen at Denver Health, including firearm injuries.
Denver Health's
At-Risk Intervention and Mentoring Program
helps at-risk youth who are seen at Denver Health after suffering gun-shot wounds, stab wounds or are victims of an assault.
From 11 a.m. – 1 p.m., May 13 – 17, members of Denver Health's Level One Trauma Team will be outside the Good Day Café, Basement, Pavilion A, at Denver Health to provide information and resources highlighting its work in the Denver Community.