The Source for Affirming LGBTQ Health Care
June 13, 2019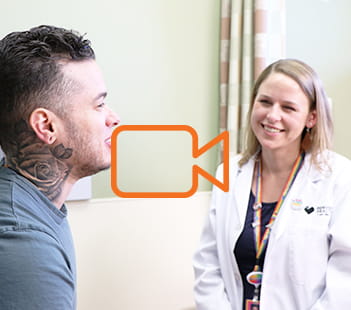 Providing top-quality "Care for All" has been central to Denver Health's
mission
since the hospital opened its doors in 1860 and that mission continues today at Denver Health's
LGBTQ Health Services, an LGBTQ+ Center of Excellence
.
"The Denver Health LGBTQ+ Center of Excellence is not a center with four walls," explained the Center's Medical Director,
Liz Kvach, M.D.
"It is a de-centralized model of care and our constant goal is that it is a place where the LGBTQ community can receive open and affirming and sensitive care." That care can be found at all Denver Health locations and includes a network of specially-trained, LGBTQ-friendly physicians and providers.
"I was new to the city, essentially I was definitely looking for someone to follow me through my health journey," explained Denver Health primary care patient Ethan "Spoons" Vazquez. Vazquez – who is transgender – said finding a place where he felt comfortable getting his health care had been a challenge in the past. "At that point it was, where do I find somebody who is not going to be judgmental? And I think here, at Denver Health, I can let my guard down."
Dr. Kvach continues to see patients for their
primary care
, in addition to serving as the medical director of the LGBTQ+ Center of Excellence. Vazquez is one of her patients.
Vazquez said, "Particularly with Dr. Kvach, if I have a question about something, no matter how dumb it is, she looks out for me. If I'm reaching out via
MyChart
, I know she's going to respond in at least 24 hours."
Dr. Kvach explained the importance of the special training for her patients, "We felt like it was worth it to really transform the culture of our entire system so that patients in the LGBTQ community feel welcome and feel like their needs are being met."
Vazquez said he has no plans to go anywhere else for his health care, "The follow-up and the follow through is something that keeps me coming back because I know I'm in good hands."
Out Front Magazine recently wrote about Denver Health's LGBTQ Health Services, calling it an "Oasis in the Desert of LGBTQ Healthcare."
The article explains why Denver Health is successful in its mission to be the source of care for all LGBTQ people in the Denver area and beyond.