New School-based Health Center Dental Clinic Opens
October 03, 2019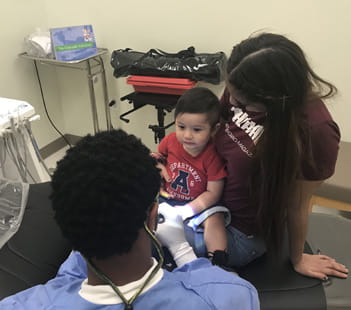 Denver Health opened a new dental clinic at
Florence Crittenton High School
, one of its 18
School-based Health Centers
.
Florence Crittenton is an alternative high school serving pregnant and parent teens which was already offering pediatric and gynecological care to students and their children. Dental care is a new service for this location.
The clinic and its new dental services makes this school-based health center an easy and convenient way for students and their children to get the care they need.
"It's on campus. I can do it myself, so I feel like it's making me more independent," said Armani Manzanares, a 17-year-old student who gets care for herself and her one-year-old son at the center.
Denver Health has 18 school-based health centers in Denver Public Schools (DPS) that provide a range of no-cost services like mental health care, primary care, immunizations and more.
The health center has helped improve attendance at Florence Crittenton while reducing the odds that young moms will put off necessary care, said Suzanne Banning, president and CEO of Florence Crittenton Services.
The dental clinic is providing dental exams, x-rays and cleanings. A dentist comes in once a week while a dental hygienist is also available at the clinic. Fillings and extractions, as well as other more advanced services, will be added in January.
Read more about this dental clinic's opening
and how it's having a positive effect on students via The Denver Post.