Treatment on Demand Program Helps Veronica Move into Recovery
October 02, 2019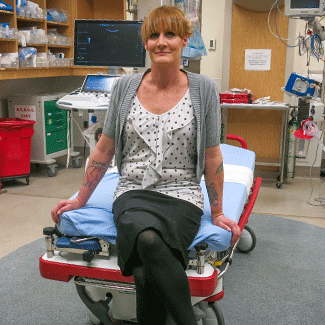 In February, Denver Health launched a new Treatment On Demand opioid addiction program at Denver Health, as originally reported by Colorado Public Radio.
To gain access to medication, a person presents at the Denver Health Emergency Department (ED) when experiencing withdrawal. They are then treated with buprenorphine. The new program provides on-call social workers at ED, to meet and encourage people to seek treatment for opioid dependence. The social worker meets the patient at bedside and moves with the patient to Psychiatric Emergency Services (PES) East, a six-chair unit behind the ED.
The social workers conduct a "biopsychosocial assessment" of patients in PES East, and, if clinically appropriate, will enroll them into regular buprenorphine treatment, linking patients to next day care.
Under other circumstances, it can take as long as three weeks to enroll a patient into treatment, by which time the patient might not be willing to access care.
The program is being run by physicians and psychiatrists in the ED, and our new Center for Addictions Medicine (CAM).