The Center for Addiction Medicine at Denver Health
At Denver Health's Center for Addiction Medicine every door is an opportunity. Doors lead to new beginnings. Doors open to hope. At the Center for Addiction Medicine, there are no wrong doors. The center brings Denver Health's broad range of addiction programs and medical resources into a single place, providing comprehensive treatment options, mindful of the stigma of substance use.
The Center for Addiction Medicine is a new Denver Health initiative dedicated to combating the damage being done to our community by the disease of addiction. In 2018, more than 1,100 people died of drug overdose in Colorado. Behind every statistic is a person: a unique individual with a family and a community.
Denver Health is on the frontline of this public health crisis. From first responders and social workers to emergency and primary care providers, our system-wide continuum of care ensures patients are stabilized and successfully treated at the right level of integrated physical and behavioral health care. The Center for Addiction Medicine is bringing these dedicated professionals together in an unprecedented effort to try to prevent more deaths and increase long-term recovery.
Goals, Vision and Guiding Principles
The goal of the Center for Addiction Medicine is to coordinate the essential health services for persons with substance abuse disorders. The vision is to be a compassionate model for the prevention and treatment of substance misuse, to transform lives and to educate all.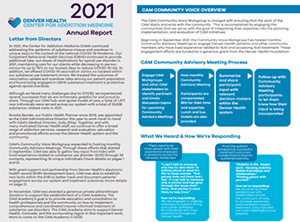 Strategic Goals
The Center for Addiction Medicine has five-year strategic goals:
Inclusive and Compassionate Care: Ensure inclusive and compassionate care where all health care professionals treat patients with substance use disorders with respect and dignity, and improve patient outcomes.
Full Continuum of Care: Strengthen the continuum of care for people with substance use disorders throughout the Denver Health system and beyond. Ensuring that patients receive the right level of care for their individual needs.
Knowledge Management:

Establish a comprehensive data interface to support strategic, operational, and managerial decisions, and research and evaluation.

Fiscal Growth and Financial Partnership: Enhance internal and external revenue streams to ensure quality services are accessible far into the future.
Community Voice: Partner with organized groups of community members with lived experience to facilitate integration of their expertise into the planning and implementation of CAM initiatives.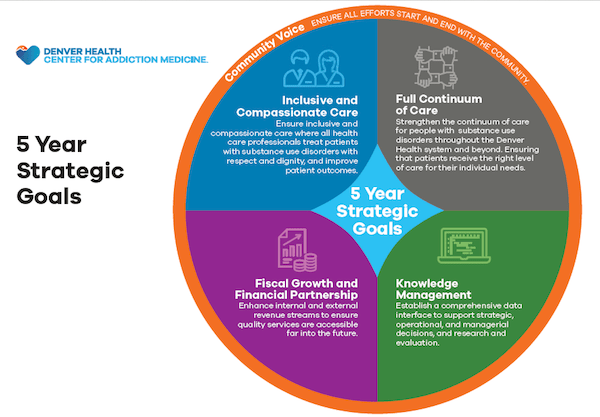 Governing Structure
A governance structure has been established to achieve the strategic goals of the Center for Addiction Medicine, as well as to provide guidance and accountability. The Governing Council supports coordination of efforts across Denver Health's array of care sites and with services in the community. Members include representatives from the executive leadership team and champions from each department across the system.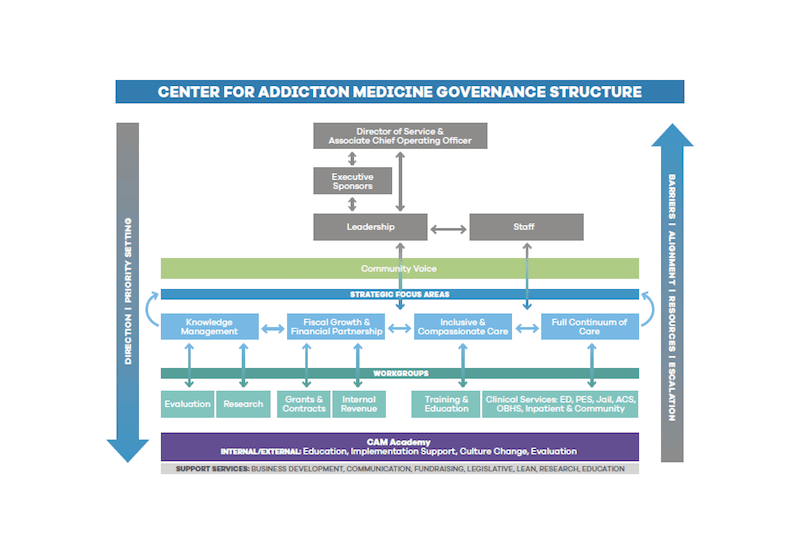 Contact Us
To access services provided by the Center for Addiction Medicine, please call Outpatient Behavioral Health Services at 303-602-4851.
For screening and referrals to services, please call the Community Line at 303-436-5711.

This grant-funded program offers people in the community a call line staffed by experienced addiction experts who can screen for substance use, provide referrals, and point people in the right direction for accessible opioid ttoreatment and non-opioid treatment options.

For professional technical assistance or information on implementation of the Center for Addiction Medicine, please email CAM@dhha.org.
For all other Denver Health services, please call 303-436-6000.
Center for Addiction Medicine Staff