The Beginnings of Denver Health's Family Health Centers
February 12, 2020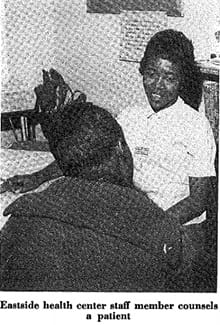 As we celebrate Black History Month at Denver Health, we recognize the key role that our nine Family Health Centers have played in the health of Denver's African-American community. Denver Health dentist Dr. Michael Raizen recently reminded us about the rich history of the Bernard F. Gipson Eastside Family Health Center, when he discovered this article from 1969 while doing some research.

The article was published in "Public Health Reports" and written by Dr. David Cowen, then manager of Denver Health and Hospitals. In one of the featured photos, you see a staff member talking with a patient at Eastside.

In the 1960's Denver Health first developed a system of comprehensive care for Denver's low income residents, using federal, state and local funding. The first of our nine Family Health Centers opened in 1966 – then known as the Eastside Neighborhood Health Center, primarily serving African American patients who lived in the Five Points and Whittier neighborhoods nearby. News articles written at the time touted the new facility as a "means of bringing 20th century medicine to low-income citizens." At the time, Eastside had four full-time pediatricians, seven full-time physicians and four full-time dentists.

Planners expected to see 450 patients a week, but once the doors opened and word got out, the clinic very quickly averaged more than 2,000 visits a week. The clinic even cared for Dr. Martin Luther King, Jr. during a visit to Denver. The Eastside Neighborhood Health Center is now known as the Bernard F. Gipson Eastside Family Health Center, and was remodeled in 1968 to accommodate more patients. Due to the success of Eastside, that same year, Denver Health opened its second family health center, known today as the Sam Sandos Westside Family Health Center.

Today, Eastside continues to serve the diverse and growing Denver community, and is celebrating recent renovations to better serve the patients who come to the busy clinic each and every day.
In 2020, Denver Health is celebrating 160 years of providing care for all in the Denver community. Throughout the year we will be reflecting on our rich history and sharing some of the stories that make up 160 years of care in the heart of Denver.

Read more stories celebrating Denver Health's 160th anniversary.