More Than 300 Denver Health Patients Treated and Now Recovering From COVID-19
May 13, 2020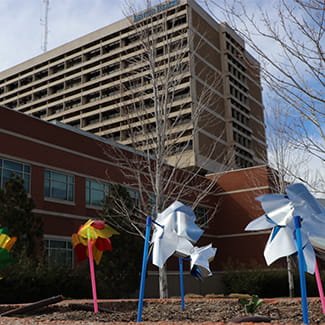 Update May 13, 2020: Denver Health has now treated and released 332 patients who contracted the novel coronavirus (COVID-19).
Original article: Denver Health has now treated and released more than 200 patients who contracted the novel coronavirus (COVID-19). Pinwheels are planted around the hospital in front of Pavilion A and Pavilion C, as well as along Bannock Street between Speer Blvd. and 7th Ave. to recognize and celebrate each one of our COVID-19 patients who have been discharged. While the rising number of discharged patients is encouraging, our medical experts caution that the fight against the virus is far from over.
COVID-19 Patient Data at Denver Health
COVID-19 patients get discharged or released from the hospital when they "no longer need high levels of oxygen or other medical support only provided by hospitals," explains Denver Health Chief Medical Officer Connie Price, MD. Patients in their 50's and 60's now make up the highest number of people hospitalized for COVID-19 statewide, but as a percentage, patients older than 60 are hospitalized at a higher incidence. COVID-19 patients who are hospitalized at Denver Health currently stay an average of about six days. For those with the most serious symptoms who find themselves in the intensive care unit, the average stay is about eight days.
These numbers tell us that the need for social distancing, staying at home as much as possible and practicing good hygiene will continue to be important for everyone in the weeks and months ahead, and particularly for people who are older and who have pre-existing conditions.
Dr. Price said she expects to see the number of patients admitted for COVID-19 to slow in the next few weeks and may stay steady for a while, but that some patients may have longer hospital stays. "As testing for COVID-19 expands, we may hear of more people being diagnosed with COVID-19, but those patients won't necessarily be sick enough to be hospitalized," Dr. Price explained.
Encouragement on the Front Lines at Denver Health
Front-line workers working with COVID-19 patients at Denver Health are encouraged by what they are seeing, including patients being taken off of ventilators after a month.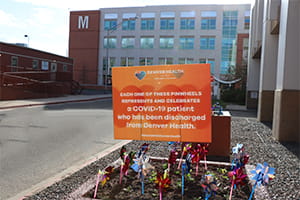 Dr. Katie McPherson, a pulmonologist who recently finished a fellowship at Denver Health, told FOX 31 News, "I love seeing people get better and I thrive on it." She has treated close to 100 COVID-19 patients. She's seen the success of patients recovering, but also experienced the sadness and struggle of treating seriously ill patients who may not recover.
"This is my job," McPherson said. "This is what I trained to do. If not me, who? And I want to do it because I feel like I can provide good critical care for folks."
According to Dr. Price, Denver Health is equipped and prepared to handle the volume of COVID-19 patients for many weeks ahead.
Celebrate and Share Your Appreciation For COVID-19 Patients and Hospital Staff
The pinwheel displays celebrate not only our discharged patients, but also our staff members who helped them heal. We encourage anyone who sees the pinwheels around the hospital campus to snap a photo and share on social media, with the following hashtag: #StandWithDenverHealth.
Get the most up-to-date information on the coronavirus and Denver Health's response at DenverHealth.org/coronavirus.