New Symptoms of Novel Coronavirus
May 27, 2020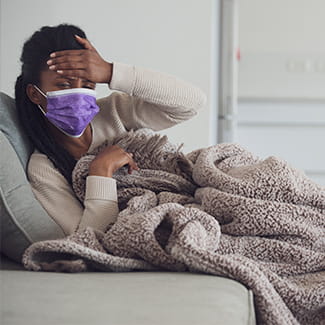 As scientists and infectious disease physicians work to better understand the novel coronavirus (COVID-19), they have discovered that many patients who contract the virus are showing new symptoms or in some cases, mild or no symptoms at all. The COVID-19 outbreak was first identified in Wuhan, China in December of 2019 and as a new infectious disease, providers need to react and change their diagnosis strategy as they continue to study it.
Denver Health Chief Medical Officer and infectious disease physician Connie Savor Price, MD explained that early on, providers were looking for just three main symptoms – fever, cough and shortness of breath.
"As we gained more experience with this infectious disease, we learned that it can cause many other symptoms," Dr. Price said.
COVID-19 Symptoms to Watch For
According to Dr. Price, anyone can experience any one of the following symptoms, ranging from mild to severe:
Fever or chills
Cough
Shortness of breath or difficulty breathing
Nausea or vomiting
Diarrhea
Muscle or body aches, including stomach pain
Loss of taste or smell
Fatigue
Headache
Sore throat
Congestion or runny nose
Dr. Price stressed that these symptoms, "can be subtle and some people really don't have symptoms at all."
The Centers for Disease Control and Prevention (CDC) will continue to add to the above list here at this link as we learn more about COVID-19.
Expanded Coronavirus Testing at Denver Health
Dr. Price said as we understand the increasing list of COVID-19 symptoms, Denver Health is expanding its criteria for testing.
Denver Health's current capacity for testing is approximately 500 tests a day and all patients admitted to the hospital will be tested, whether they show symptoms or not. We expect to double that capacity in June.
Risk for Getting COVID-19
As businesses in Colorado continue to open up and more people return to work, the threat of spreading the novel coronavirus is far from over.
"We still have a lot of cases of COVID-19 in Colorado (there were 24,269 cases as of May 26, 2020), so we are not out of the woods yet," Dr. Price warned. "If you don't need to go out, I recommend that you continue your social distancing, particularly if you are a member of an at-risk group."
While everyone is at-risk of getting COVID-19, some are at slightly higher risk of both contracting the virus and getting severely ill. That higher-risk group includes people with the following underlying medical conditions:
Diabetes
Heart and lung conditions (including moderate to severe asthma)
Severe obesity (Body Mass Index (BMI) of 40 or higher)
Those who are immunocompromised (includes people who: had cancer treatment, smoke, had bone marrow or organ transplants, have immune deficiencies, have poorly controlled HIV or AIDS or are on immune weakening medications)
Chronic kidney disease
Liver Disease
People aged 65 and older
Nursing home or long-term care facility residents
"That group really is still at high-risk and I would encourage them to continue to practice social distancing," Dr. Price said.
Stay up-to-date on Denver Health's response to COVID-19 at DenverHealth.org/coronavirus.