Denver Health Has 59 "Top Doctors" on 5280 Magazine's List
August 20, 2020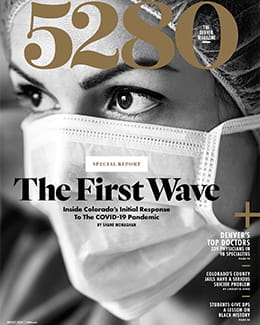 Denver Health is well represented in the
2020 edition of 5280 Magazine's annual "Top Doctors" issue
. This year we are incredibly proud to say that 59 of our physicians made the list. That is nine more than last year and a testament to the difficult, but important work happening this year during the COVID-19 pandemic.
For the last 27 years, 5280 has asked doctors in the Denver metro area, "who would you want treating you and your family?" The results: a list of doctors, specialty by specialty, who are recognized for their outstanding commitments to providing quality care.
Here at Denver Health, we pride ourselves in providing quality care, and our patients know that the teams that work alongside our physicians are matched with the same heart, dedication and commitment to excellence. From all of us at Denver Health, a huge congratulations to our Top Docs – we are grateful for you and for all of our front-line health care workers!
Here are our 59 doctors on the list:
Kaylin Klie
Andrew Prouse
Antonia Chiesa
Lucy Loomis
Rodrigo Donalisio Da Silva
Christiane Thienelt
Sam McMurry
Stuart Linas
Kathryn Beauchamp
Edward Maa
Andrew M. White
Joseph Houkal
Cristos Ifantides
Marco Pinder
James T. Gaensbauer
Denis D. Bensard
Fritz Karrer
Sonja O'Leary
Susan Ladley
Joel Hirsh
Alex Morton
Clay Burlew
Joseph Cleveland
Melanie Hoehn
Read more about the doctors selected this year and see the lists of Denver Health doctors who made the 5280 Top Docs list in years past.